MSP Bill Walker may have slapped second wife 'to calm her down'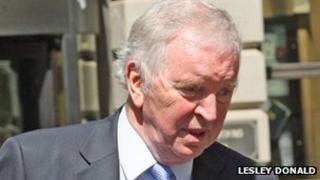 An MSP facing a number of domestic assault charges "may have slapped" his second wife to calm her down, Edinburgh Sheriff Court has heard.
Det Sgt Paul Dick said Bill Walker told him he wrestled Anne Gruber, 71, to the floor in their home in the 1980s.
The accused had explained to the officer that he was trying to disarm Mrs Gruber, who was holding a knife.
Mr Walker has pleaded not guilty to a total of 24 charges.
Prosecutors allege that the former SNP member, who is now an independent MSP, member assaulted Maureen Traquair, Anne Walker, Anne Louise Paterson and Diana Walker at addresses in Edinburgh, Stirling, Midlothian and Alloa.
It has been claimed the offences took place between January 1967 and January 1995.
On the fourth day of the trial, Det Sgt Dick recalled the interview he had with Mr Walker when the politician was detained in relation to the allegations last year.
The court was told that Mrs Gruber - who was then known as Walker - had been drinking whisky and lemonade in the moments leading up to the alleged confrontation.
Holding knife
Mr Walker is said to have told officers that he managed to disarm the kitchen knife from Mrs Gruber after getting her to the ground.
The court heard that he placed a knee on her chest in his bid to take the blade from her.
Reading from a transcript of the interview, Det Sgt Dick said Mr Walker told him and another officer: "I may have slapped her to calm her down."
Mr Walker told the officer that he was concerned for his safety but managed to make the situation safe by getting the blade out of Mrs Gruber's hand.
When police quizzed him about his relationship with his third wife Diana Walker, Mr Walker told officers that he regretted marrying her.
He added: "I was a good meal ticket. I married her on the rebound. It was a mistake."
Lawyers acting for Mr Walker, of Alloa, Clackmannanshire, have lodged special defences to self defence to three of the charges.
The trial before Sheriff Katherine Mackie continues.