Police chief David O'Connor calls for A9 priority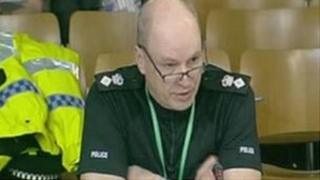 Higher priority should be given to plans to transform the killer A9 into a dual carriageway, a senior police officer has insisted.
And improvement works should be brought forward.
The call to the Scottish government has been made in an open letter by Ch Supt David O' Connor.
It follows the latest fatal accident earlier this week when a mother and daughter from Edinburgh were among three people who lost their lives.
The officer, who is president of the Association of Scottish Police Superintendents (ASPS), said his comments were not intended to suggest any specific link to the recent tragic incident, as he was not aware of the detail.
But he insisted: "A major part of the problem is engineering - a lack of dual carriageway.
"The road needs to be dual carriageway for its entirety. While I welcome the Scottish government position that work on making the A9 dual carriageway from Perth to Inverness will start early - in 2015 -2016, I have to ask - is this early enough?"
He added: "There have been other major capital investments made across Scotland for sound economic reasons. However, people are continuing to die and be seriously injured on the A9 with depressing frequency.
"This needs to be looked at with fresh eyes and explored to see if it can be given a higher priority."
He added: "Our elected representatives in the Scottish government and Scottish Parliament need to ask themselves if they need to reassess their priorities and bring forward improvement work as soon as possible and not in 2015 or 2016 as is currently planned."
Tuesday crash
On Tuesday, Abigail Houston, 42, and her daughter Mia, seven, died after their Audi A4 car was in what is believed to have been a head-on collision with a Jeep Cherokee 4X4.
The Edinburgh woman's husband and the couple's other daughter were also in the car. They were seriously injured and are being treated in Raigmore Hospital in Inverness.
The man in the Jeep was pronounced dead at the scene while his wife, who also sustained serious injuries, was taken to Raigmore Hospital.
All three survivors are said to be in a stable condition.
The crash happened just south of the Ralia junction on the A9 on a single carriageway section of the road between two sections which have overtaking lanes.
Ch Supt O'Connor, himself a frequent user of the A9, said his thoughts were with the families involved and added: "There are few roads in Scotland that have the same reputation as a dangerous road as the A9 between Perth and Inverness.
"The most recent fatalities occurred near Kingussie but could equally have occurred at any other point on the road where lack of dual carriageway is a key factor."
It has been claimed the road layout can confuse drivers, particularly those who do not know the area.
The A9 was dubbed the deadliest in Scotland after it was revealed that 67 people had been killed on it between 2006 and 2010, giving it the highest fatality rate of any road in Scotland.
Driver choices
Ch Supt O'Connor said more must be done to help motorists and said: "Other parts of the solution include education. Driver choices need to be significantly influenced and again a fresh look taken to identify the most effective ways to influence us, the driving public, when we get behind the wheel - particularly on the A9 until it is improved.
He continued: "The final part where policing in particular can actually make a significant impact is enforcement. I know how much effort is put into reducing the number of people killed and seriously injured on our roads - it is a lot.
"Perhaps the time has come to not only significantly increase the police enforcement activity specifically on the A9 but also adopt a zero tolerance to unlawful driver conduct in order to save lives. There may be other legislative measures to improve safety that can also be explored."
He concluded: "I also believe that increased highly visible police patrols of the A9 can help prevent road collisions and the death and serious injury that frequently arise. The Chief Constable shares my determination to keep the public using the A9 as safe as possible."
Transport minister Keith Brown expressed his sympathy to friends and relatives of those involved in the latest accident.
He said: "Dualling involves the upgrading of 80 miles of carriageway, and much of the work lies in the planning and consultation process that must be undertaken before construction can begin.
"Each section of dualling represents a major project and these require in-depth planning and design to ensure that we keep impacts on communities, businesses and the environment to the absolute minimum.
"We have also asked the A9 Safety Group, which Police Scotland are part of, to develop additional actions such as improved consistency of signing and lining, improved geometry, variable messaging signs displaying journey times and average speed cameras."