MSP Bill Walker trial told of 'smear campaign' claims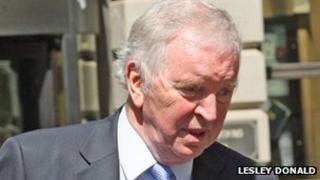 A trial has been told that an MSP facing domestic assault charges told police he was being subjected to a "smear campaign" being "orchestrated" by his two ex-wives.
A court heard Bill Walker said Anne Gruber and Diane Walker were behind an attempt to blacken his name.
He told detectives the women were working with a man who was "fixated" with getting him into trouble.
Mr Walker, who represents Dunfermline, has denied a total of 24 charges.
Edinburgh Sheriff Court heard that the 71-year-old, from Alloa, had denied assaulting three ex-wives and a step-daughter when police detained him in relation to abuse allegations.
He told them two of his ex-wives were working with a man called Armstrong.
The former SNP member, who now sits as an independent, said they had contacted a Sunday newspaper to wrongly allege that he had abused them when he was married to them.
The evidence emerged during the fifth day of Mr Walker's trial.
He denies 23 charges of domestic abuse and one charge of breach of the peace.
Prosecutors claim the offences took place between the 1960s and 1990s.
Det Sgt Paul Dick told depute procurator fiscal Les Brown that Mr Walker revealed his concerns that he was being smeared during a formal police interview last year.
He said that Mr Walker had denied assaulting his former partners on various occasions over a 28-year period.
'Utter rubbish'
At the end of the police interview, Det Sgt Dick said that the MSP said he thought that two of his ex-wives had been in contact with each other.
Mr Walker then told Det Sgt Dick that he thought they and a man called Armstrong were spreading false information about him to media outlets.
During the interview, he also said that claims he entered Anne Gruber's home carrying an air rifle in a bid to intimidate her were "utter rubbish."
He added: "It's just a fantasy."
Det Sgt Dick also said that at various points in the interview, Mr Walker started laughing when asked about his alleged criminal behaviour.
Prosecutors allege that Mr Walker assaulted Maureen Traquair, Anne Walker, Anne Louise Paterson and Diana Walker at addresses in Edinburgh, Stirling, Midlothian and Alloa.
The offences are said to have taken place between January 1967 and January 1995.
Lawyers acting for Mr Walker have lodged special defences of self-defence to three of the charges.
The court heard that at the conclusion of the police interview, Mr Walker was arrested and charged.
DS Dick told the court that Walker said: "I completely deny these charges."
The trial, before Sheriff Katherine Mackie has been adjourned until 29 July 2013.