School meal chicken 'from Thailand'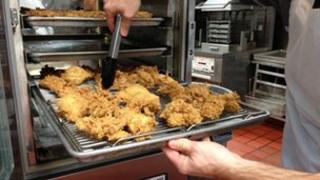 Some councils are "flying chicken nuggets from Thailand" for school dinners, the Scottish Greens have said.
The party said just one council - Stirling - served chicken that was shown to have come from Scotland.
A further five - Edinburgh, Glasgow, Dundee, Aberdeen and Perth and Kinross - all source a chicken product for their school meals from Thailand.
And Edinburgh, Dundee, Perth and Kinross and Highland source a chicken product from the Netherlands.
The Scottish Green Party sent freedom of information (FoI) requests to council leaders in Scotland's seven cities, asking where they got the chicken for their school meals from.
Stirling Council was the only authority that said it sourced its chicken from Scotland - with 90% of this meat coming from north of the border while 10% came from elsewhere in the UK.
Meanwhile, the Greens said responses to their FoI requests showed only 14% of the chicken served up by both Dundee City Council and Perth and Kinross Council came from the UK, while Aberdeen City Council said 30% of its chicken was British.
Alison Johnstone, Green MSP for the Lothian region and the party's food spokeswoman, said: "There shouldn't be so much of a divide between the pioneer councils and the food laggards when it comes to something as important as our children's meals.
"I have long-standing concerns about imported meat and there's got to be a better way than flying chicken nuggets from Thailand."
She praised the Soil Association's Food for Life scheme, which encourages caterers in both the public and private sector to use more local, free range, fair trade and organic ingredients in their menus.
The MSP also called on the Scottish government to use its Procurement Bill to "set some new standards" for the food served in schools.
'Local produce'
She added: "I commend the Food for Life scheme and in light of the horse meat scandal I feel it is the sort of scheme all public bodies should be adopting with some urgency.
"We must aim for local, high-quality food on our children's plates as the norm. The government's Procurement Bill should be a chance to set some new standards to achieve that aim.
"Councils are under pressure to award contracts on cost rather than make choices that would have positive impacts for the local economy and animal welfare."
She added: "The Scottish government's food policy is too focused on exporting whisky and salmon, and needs to do more to get local food used in meals bought with public money."
A Scottish government spokeswoman said: "While procurement decisions are entirely a matter for local authorities, the Scottish government provides guidance setting out nutritional requirements and quality standards for school meals, and we expect both to be observed.
"Within the boundaries of strict EU rules, the Scottish government strongly encourages local produce to be procured wherever commercially possible."
Local government body Cosla insisted all school meals were "extremely high quality".
Councillor Douglas Chapman, spokesman for education, children and young people, said: "All Scottish school meals are of extremely high quality and meet national nutritional standards.
"It is important to note that recently-published government statistics show that the percentage of young people taking school meals is close to 90% in primary schools, and has risen in secondary schools every year for the last four years.
"This is a vote of confidence in the high-quality meals that schools prepare."