Scots universities win funding for robotics research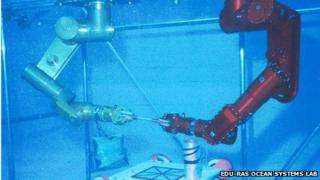 Two Scottish universities have been given more than £6m of UK government funding for research into robotics and autonomous systems.
Heriot-Watt University and the University of Edinburgh will use the cash to develop a joint research centre in the capital.
The centre will explore the potential of robots and autonomous systems across a broad range of sectors.
They include oil and gas, search and rescue, defence and manufacturing.
The funding is part of a wider £85m investment in three technological areas, which include the creation of new materials for manufacturing and other industries and developing new ways of storing energy.
Breakthrough 'potential'
Science Minister David Willetts said funding would be made available to more than 20 universities across the UK to support and strengthen existing research in these areas.
The funding announcement follows a call for proposals issued by the Engineering and Physical Sciences Research Council (EPSRC).
Prof David Lane, of Heriot-Watt University, said: "Robotics has the potential to create breakthroughs in oil and gas, manufacturing, search and rescue, defence and environmental monitoring.
"There are wider societal gains too. Autonomous robots could be deployed in to elderly people's homes to assist users in their everyday tasks, for example."
The research centre will draw on the expertise of more than 50 investigators working in 16 research groups and institutes in Edinburgh.
'International hub'
Prof Dave Robertson, head of the School of Informatics at the University of Edinburgh, said: "This new centre builds upon Edinburgh's reputation as an international hub for robotics research and prepares us for new challenges where humans and robotic systems must work together."
Mr Willetts added: "For Britain to get ahead in the global race we have to back emerging technologies and ensure our universities have the latest equipment.
"This capital investment will help scientists make new discoveries and take their research through to commercial success.
"It will drive growth and support the government's industrial strategy."