'Worrying' rise in drink deaths among Glasgow women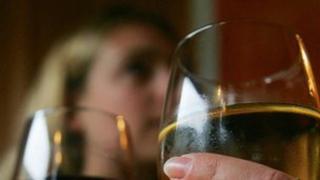 Researchers have called for action to address the high level of alcohol-related deaths among women in Glasgow.
The number of women in their 30s and 40s dying from drink-related causes in the city is rising.
The researchers, writing in the Journal of Epidemiology and Community Health, said it is an early warning sign.
They say while tackling alcohol affordability and availability are important, the deep-rooted causes of the problem must also be addressed.
Dr Deborah Shipton from the Glasgow Centre for Population Health, who led the research, said it had long been known the city has a high rate of alcohol deaths which has been rising.
She said: "Alcohol-related mortality has been rising since 1980.
"But it is particularly worrying that the greatest rate of increase is among women born in the 1970s.
"A failure to act on this could have long-term health implications for this group."
Industrial cities
The researchers examined drink-related deaths in Manchester and Liverpool - two cities with similar social and industrial backgrounds.
Glasgow's alcohol-related mortality was three times higher than in the other cities in the 1980s - and the gap has widened since then, although all three have experienced a rise in the death rate.
They identified deprivation as one of the reasons for this, with those living in the poorest areas seven times more likely to die from drink-related causes than those in the most affluent districts.
The Scottish Parliament has legislated to introduce a minimum unit price for alcohol - but implementation has been stalled following a legal challenge by the Scotch Whisky Association.
The report said while tackling alcohol availability and affordability are important, social reasons which cause excess drinking must also be addressed.
It said: "For example, the introduction of minimum unit pricing is required to tackle the proximal influences of alcohol affordability, but additional resources are required to tackle the deeper-rooted cultural influences at play."
A Scottish government spokesperson said: ‪"This report is further evidence that Scotland's unhealthy relationship with alcohol affects every part of our society with excessive alcohol consumption across different age, gender and socio-economic groups. ‬
‪"That is why this government is committed to taking strong action to reduce alcohol consumption and the risk of alcohol-related harm in order to tackle the long legacies of alcohol misuse that have damaged our communities for generations.‬‬"
The spokesperson cited education and prevention measures, including the Drinking Mirror app and moves to bring in minimum pricing for alcohol.