Shoppers in Scotland use 750 million plastic bags every year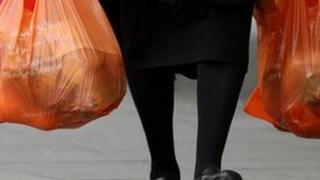 Scottish shoppers use more plastic bags than anywhere else in the UK.
A total of 750 million are used every year, according to Environment Secretary Richard Lochhead.
That amounts to 12 bags per person every month.
The Scottish government has already announced plans to bring in a new charging regime, with shoppers to be charged 5p for single-use bags from October 2014.
The proceeds from this will go to charity, with good causes expected to receive up to £5m a year through the scheme.
The latest figures from the organisation Wrap, which aims to reduce waste, showed supermarket shoppers in Scotland used 750 million thin carrier bags in 2012 - up from 740 million the previous year.
'Throwaway society'
The UK per capita usage rate for plastic bags was highest in Scotland. Across the UK, 8.1 billion single-use bags were used in 2012.
Mr Lochhead said: "Discarded carrier bags highlight our throwaway society. It's clear that we need decisive action and that's exactly what our new measures will do.
"We have seen elsewhere that carrier bag charging has been effective in encouraging people to reuse bags. The charge in Scotland will not be a tax but will see retailers donating the proceeds to charity."
Lang Banks, director of environmental campaign group WWF Scotland, said the figures on the number of plastic bags used were "pretty shocking" and underlined the reason why Scotland was "right to introduce a charge for plastic bags".
He added: "Single-use carrier bags are symbolic of our wasteful attitude to resource use which must be addressed if Scotland's vision of a zero waste future is to be realised.
"The millions of carrier bags used every year pollute our environment, threaten wildlife and take decades to break down in landfills."