Scotland's hot spell boosts staycation numbers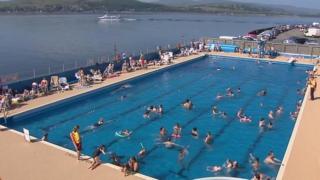 The hot spell in Scotland has resulted in an increase in the number of people choosing to holiday at home, according to early market indications.
Barrhead Travel said foreign holiday sales had "dropped considerably", while UK holidays were selling well.
Even before the sun came out "staycations" were up in Scotland for the first quarter of this year, according to VisitScotland.
On Friday Scotland's temperatures peaked in Prestwick at 29C (84.2F).
Forecasters were predicting that the weekend could bring the hottest day of the year.
Helen Campbell, of VisitScotland, said: "Early indications are suggesting that this will have a very positive effect.
"Certainly the first quarter of the year was positive.
"Good weather will encourage more and more people to experience Scotland, stay at home, go out for the day, and spend their holidays in Scotland."
Price cut
Barrhead Travel's Bill Munro said the Mediterranean market had dropped by at least 20% but they were selling "a huge number of British holidays".
However, he said the market for overseas holidays was now starting to pick up due to the sharp drop in prices.
"Last week and this week people are now coming back in because the prices are so attractive," he said.
Meanwhile, the Scottish government issued advice for keeping safe in the sun.
Health Secretary Alex Neil said: "It is important that people drink plenty of water to stay hydrated, protect their skin with SP factor 15 or above and take shade during the hottest parts of the day.
"We don't often get such nice weather in Scotland and we all want to enjoy the summer while it lasts - so make sure you take care not to let the heat spoil yours."
In England, the Met Office issues heatwave warnings in association with the NHS. However, Scotland, Wales and Northern Ireland are not signed up to that system.