Concerns raised over web dating 'fake profiles'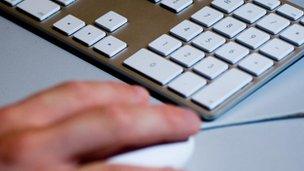 A BBC investigation has found that fake profiles are apparently being used to encourage people to pay a subscription to a Scottish internet dating company.
It found evidence that Cupid plc dating sites seemed to use fake messages or profiles to entice people to subscribe.
The Information Commissioner said it appeared to breach data protection laws and wants to investigate further.
Cupid plc has denied using fakes and said it was cleared of organising fake profiles by auditors.
Internet dating is an industry worth about £2.5bn a year globally and there are an estimated 1,500 online dating sites in the UK alone.
About 5.7m people in Britain used the sites last year, according to Com Score Mediametrix, a firm used by industry analysts.
One of the UK's biggest online dating companies is Edinburgh-based Cupid plc, a company which generated revenue of £81m last year.
Earlier this year the company hired auditors after users told a BBC 5 live investigation they had lots of messages when they signed up to the sites as free users, but when they paid up, interest rapidly tailed off.
Cupid commissioned KPMG to look at working practices, and conducted interviews with staff in Edinburgh and Ukraine.
The report found that "scammers" were a problem but said there was no evidence of "a Company organised" use of fake profiles.
But the BBC has been contacted by Cupid daters, complaining of disappearing messages and fake profiles.
The programme team created a profile of a man called James from Glasgow, to see how many of the people who approached "James" were real.
James' profile received a message from a woman called Kristine based in London. The woman behind Kristine told the investigation she had set up a profile on Cupid but she had not sent the team's profile a message. The message enticing the programme team's profile to pay a subscription to the website was fake.
The investigation also found its "James" profile was matched with a woman called Kaz B. However, Kaz B is Karen Bartke, a Scottish actress, who has appeared in primetime BBC One shows like Monarch of the Glen, and she did not create the profile.
She told the programme she has used online dating in the past, but never on one of Cupid's sites.
Karen said: "By making up this fantasy version of me and sticking my photograph on the side of it, it's done purely to make money from that person who's in a vulnerable situation already. It takes guts to be open and say, 'here is who I am, are you interested in me?' It's brave to do that anyway and I really object to someone taking advantage of people like that, using my photograph."
The programme reports that these profiles did not appear to be the work of scammers.
The bulk of Cupid plc's work is done in Ukraine, where journalist Svitlana Tuchynska from the Kyiv Post newspaper went undercover. She applied for a job with Cupid plc as a motivation manager.
She said: "I was interviewed by a girl who was part of the recruitment team and she told me the job is to communicate with customers on the websites. Pretend to be people from their cities so they would be interested in prolonging their membership.
"You were told openly at the job interview that your job is to fool people."
Simon Entwisle, director of operations at the Information Commissioner's Office told the BBC: "It's appalling that people's photographs are being used against a completely different set of personal details.
"What concerns me more than anything is the scale of this. It's not just an odd incident, it seems to me to be a matter of course and routine. And that gives me even greater cause for concern."
The programme contacted Cupid plc. The company said with regard to the online profile created by the programme team, there had been contact from genuine users.
It said: "Considering the industry wide problems with scammers, it's likely that this is the cause. Cupid expends significant effort to combat scammers."
Cupid described Ms Tuchynska's allegations as "wholly incorrect".
They said a review earlier this month by their auditors KPMG found: "… no evidence of a company organised practice of staff enticing registered members to subscribe through the use of fake profiles."
Cupid explained that staff profiles do exist and that the review found employees on the sites "were not clearly identifiable" to users.
Cupid says it has now replaced the motivation teams with dating advisors "which will be strictly monitored".
This article is subject to a legal complaint.
BBC Scotland Investigates: Tainted Love - The Dark Side of Internet Dating will be shown on BBC1 Scotland on Thursday 25 July at 19:00
Related Internet Links
The BBC is not responsible for the content of external sites.