Maritime plans will end centuries of sealife decline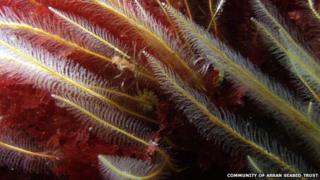 Hundreds of years of steady decline in Scotland's seas could be reversed if new plans outlined by the Scottish government are implemented.
Environment campaigners have welcomed the proposals contained in a new maritime consultation process.
The plan calls for a series of inshore and offshore protected areas for sealife.
It will give fish, corals and sponges a chance to return to better health.
In addition, the initiative will provide a guide for the development of the offshore renewable energy industry in Scotland.
Under the plans, there will be a scheme to establish a network of Marine Protected Areas (MPAs).
'Prized asset'
These are aimed at promoting sustainable development at sea extending to 200 nautical miles and increase protection for the country's iconic marine species and habitats.
They will manage the ecological health of Scotland's seas that have suffered from centuries of pollution, overfishing and damage to the seabed.
Launching the 16-week process, Environment Secretary Richard Lochhead said: "Scotland's seas are fundamental to our way of life. They are a vast and vital natural resource which provide energy, food and recreation. We must protect and enhance our marine environment so that it remains a prized asset for future generations."
Calum Duncan, of the Marine Conservation Society and convenor of Scottish Environment Link's Save Scottish Seas campaign, backed the programme.
He said: "These proposals represent a historic opportunity for us to manage the marine environment in a new way that benefits both our amazing sealife and our communities that rely upon it.
"For centuries many marine species and habitats have been in decline. These MPAs are urgently needed to improve the health of our seas."
Bertie Armstrong, chief executive of the Scottish Fishermen's Federation, said: "The consultations must be the first part of the development of a sensible balance between marine conservation, energy production and the essential requirement to secure and protect a viable fishing industry that will ensure the future of our coastal communities and the continuing provision of a sustainable source of food."
Iconic seabirds
Sam Gardner, head of policy at WWF Scotland, said: "These plans are as much about managing ourselves as they are about managing our environment."
But RSPB Scotland warned the plans would "do nothing" for the majority of Scotland's seabirds.
Lloyd Austin, the charity's head of conservation policy, said: "We welcome this opportunity to put our full support behind MPAs. However, the Scottish government has missed a great opportunity to do something positive for seabirds.
"RSPB Scotland and its supporters are calling on the Scottish government to designate MPAs for seabirds at sea. Government must do all it can to protect Scotland's iconic seabirds, before it is too late."
Sarah Dolman, North Atlantic programme manager for Whale and Dolphin Conservation, also expressed concerns. She said: "We are disappointed whales and dolphins are not included in the current round of site proposals so some urgently-needed ecological protection is still missing."