Record public service complaints as NHS criticism soars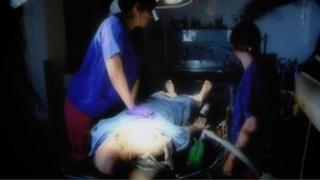 Complaints about Scottish public services reached record levels last year.
The biggest single growth area was in criticisms levelled at the NHS, according to the Scottish Public Services Ombudsman (SPSO).
But most grievances were directed against local authorities, the annual report for 2012-13 reveals.
The Ombudsman, Jim Martin, said it was "disappointing" the number of upheld complaints rose to 46% from 39%.
The report states these are complaints where an organisation has already investigated, yet the SPSO is still finding failings.
The SPSO is the final stage in handling complaints for most Scottish public bodies.
It deals with grievances against councils, housing associations, the NHS, the Scottish Government and its agencies and departments, the Scottish Parliamentary Corporate Body, colleges and universities, Scottish prisons, water and sewerage providers and most Scottish public bodies.
In the last 12 months Mr Martin received a total 4,120 complaints - an increase of 5% on the previous year - and made 1,003 recommendations for redress and improvements to public services, up 62% year on year.
Complaints about councils totalled 1,505 while 1,232 were lodged against the the NHS and a further 525 against the Scottish Government.
Mr Martin states in his report: "Much of the increase was in complaints about the NHS which rose most sharply - and such complaints are often among the most complex and time-consuming that we handle."
However, he added: "People are less concerned about timescales than they are about thoroughness of investigation."
Since 2009-10 the SPSO has seen a 23% increase in complaints and a 15% decrease in resource, excluding funding for new areas of responsibility.
The Scottish Parliament has decided to expand the role of SPSO.
This year, for the first time, the SPSO will publish separate, more in-depth analyses of findings in each of the main areas under remit such as local government, health, housing, water and prisons. These will be published over the summer and early autumn.
Mr Martin believes his organisation requires more resources to perform its work.
He said: "My ultimate commitment is to ensure justice for the people of Scotland. I want this office to contribute to improving people's lives through better public services.
"To do this I must have the right processes and sufficient resources in place to run the high quality complaints handling service the public deserves. The Ombudsman service is even more necessary in times of economic hardship when the already vulnerable are disproportionately disadvantaged."