EU fish quota sanctions against Faroe Islands agreed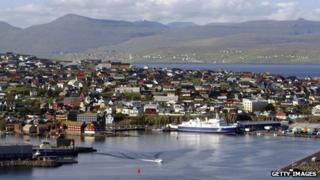 European sanctions will be brought in against Faroese herring and mackerel imports from the end of August.
Member states voted overwhelmingly in favour of the ban, following concern over the Faroese government's decision to set its own catch limits.
The legislation will prohibit the import into the EU of both species, and allows for future escalation.
The decision was welcomed by the Scottish government and the Scottish Pelagic Fishermen's Association (SPFA).
The Faroe Islands is a self-governing nation within Denmark. But unlike Denmark, it is not in the EU.
Scottish skippers have been demanding tough action be taken.
'Negotiating table'
Ian Gatt, chief executive of the SPFA, said: "We welcome this decision by EU member states and we hope it sends a clear signal to the Faroese that their actions are simply not acceptable in the 21st Century and will not be tolerated by those nations committed to sustainable harvesting.
"We note that fishmeal, fish oil and salmon products are not included at this stage, but they could be imposed later if there is no movement from the Faroese in resolving this issue."
Scottish Fisheries Secretary Richard Lochhead said: "While I am pleased that action is now being taken I am disappointed that we have reached this point.
"Such action is necessary if we are to save the stock from collapse.
"I urge the Faroe Islands to halt their damaging actions and re-join us at the negotiating table. Only then will we secure a sustainable outcome for the fish stock and our fishermen."
'Seriously undermined'
Iceland's Minister of Fisheries and Agriculture, Sigurdur Ingi Johannsson, said: "We are disappointed to see that the EU chose to impose sanctions on the Faroe Islands for its herring and mackerel catch.
"We don't believe this is the best way to settle these types of disagreements between friendly countries.
"This move from Brussels seriously undermines the efforts of the coastal states to find a solution through diplomacy and dialogue."