Four merged 'super colleges' launch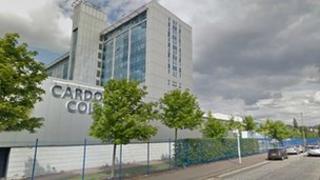 A shake up in further education in Scotland has reached a milestone with the official launch of four new colleges.
The four have been created out of 11 existing colleges as part of an ongoing scheme to merge colleges across Scotland into regional clusters.
Education Secretary Michael Russell has argued that the mergers could save £50m a year.
The idea is to cut out duplication to help focus resources on students.
In most parts of Scotland there will eventually be just one so called "super college", spread across a number of different sites.
A number of mergers have already taken place, but Thursday marks the biggest single day in the process.
'Exciting time'
The new colleges being launched are:
Glasgow Clyde College - made up of Anniesland College, Cardonald College and Langside College.
West College Scotland - made up of Reid Kerr College, Clydebank College and James Watt College (Greenock campus).
Ayrshire College - made up of Ayr College, Kilmarnock College and James Watt College (Kilwinning and Largs campuses).
Fife College - made up of Adam Smith College and Carnegie College plus staff from the Elmwood campus of Scotland's Rural College in Cupar.
A further four mergers are scheduled for later this year.
The education secretary said: "This is an exciting time for our college sector with students and employers reaping the benefits.
"The scale and influence of these new colleges, and the combined expertise on which they will be able to draw, will provide a real stimulus for economic growth.
"These changes build on colleges' strong record and the sector's pivotal role in delivering the Opportunities for All pledge to offer all 16 to 19 year olds a place in education or training.
"The launch of these new colleges will play a central part in the Scottish government's efforts to take education in this country from good to great.
"Today marks the culmination of enormous vision, dedication and hard work by the leaders, staff and students of the merging colleges and I want to pay tribute to the efforts of all involved."
Limited impact
John Henderson, Chief Executive of Colleges Scotland, described the latest mergers as an "important milestone".
He believed they opened up opportunities for colleges to be even more responsive to the needs of the students and the communities they serve.
Mr Henderson said: "Colleges will play an even greater role in strategic partnerships in contributing to Scotland's future prosperity."
The four new colleges all have principals, new boards of management and are overseen by a regional lead
In the short term, the changes will have a limited impact on students. No campuses are being shut or courses changed. The most obvious changes will be in the signage over the coming weeks.
But concerns have been expressed that some students may eventually have to travel further to study certain subjects if they are centralised on a particular site at each super college to deal with overlaps.
Mr Henderson said: "Each of the colleges should be congratulated for completing these mergers while carrying on with 'business as usual'.
"Regionalisation will be taken a further step forward by the end of the year with the creation of an additional four new colleges from mergers.
"The college sector is committed to delivering the very best for our learners and the Scottish economy."
'Proud tradition'
Mergers can be lengthy processes. Anniesland, Cardonald and Langside Colleges began merger talks in early 2012 and their merger to create Glasgow Clyde College was approved in June of this year.
The new name was chosen by students, while a competition to create the logo was won by Craig Black, a BA student in Creative Industries.
Principal Susan Walsh said: "Today is the first day of our new college, a new college which has already benefited from the great people who work here and the many supporters we have outside who have helped us achieve our merger so successfully.
"We have a proud tradition of excellence in education to maintain and I know we have the skills, expertise and commitment not to let ourselves, our students or our predecessor colleges down."
The colleges still to merge include Cumbernauld and Motherwell colleges; John Wheatley, North Glasgow and Stow colleges; Aberdeen and Banff and Buchan colleges and Angus and Dundee Colleges..