Scotland Fatal Accident Inquiry overhaul consultation starts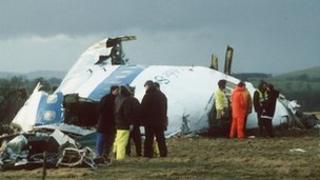 A Labour MSP has launched a public consultation on a members' bill which aims to radically overhaul Scotland's Fatal Accident Inquiry (FAI) system.
Patricia Ferguson said the current system for investigating sudden and accidental deaths was "not fit for purpose".
She said her bill would "put the families of the deceased at the heart of the process".
The Scottish government has promised to introduce its own legislation.
Ms Ferguson said the current system had left many bereaved families excluded, exasperated and angered.
In particular, she said she wanted relatives to be able to receive information more quickly about how their loved one died.
The inquiry process is often delayed by pending criminal investigation and prosecution.
Ms Ferguson also wants recommendations of sheriffs at the end of inquiries to be legally enforceable to prevent similar tragedies from happening.
Speaking ahead of the launch of the consultation on her Inquiries into Deaths (Scotland) Bill, she said: "Unfortunately I have witnessed first-hand the devastation caused to families following the death of a loved one by the woeful system we have in place to carry out a fatal accident inquiry.
"After suffering the trauma and heartache of losing a family member in sudden or unexplained circumstances it surely should not be too much to ask that the process for investigating this death does not cause further agony and grief.
"As my consultation highlights, there are many families who have had to fight the system - sometimes for many years - just to be granted the right for an FAI to be heard.
"I hope that through this consultation, we will create the foundations for a new system which will address these serious issues and provide a mechanism which allows families to understand what happened, why it happened and feel reassured that provisions are being made to prevent it happening again to someone else."
Brain damage
Ms Ferguson's consultation will run until 22 November.
She used the example of Ronald McAllister, who died in October 2006 after a needle dislodged during dialysis at Glasgow Royal Infirmary resulting in hypoxic brain damage.
It took more than six years for the FAI determination to be issued, with his relatives describing the stress it caused as "totally unacceptable".
Patrick McGuire, a partner with Thompsons Solicitors in Glasgow, said he believed Ms Ferguson's bill would provide legislation which was "badly lacking" in Scotland.
He said: "The current system is utterly draconian and serves little purpose other than to rub salt in the wounds of families who have already suffered enormous tragedy.
"Scotland is crying out for a system which would examine fatal accidents in an open and transparent manner; place the families at the heart of the process; and has teeth to actually implement change for the better."
Lockerbie bombing
Ms Ferguson's proposals were also backed by the STUC.
Deputy General Secretary Dave Moxham said: "In our experience inquiries, held in public to examine deaths at work, take an unacceptable amount of time for those who have lost loved ones to establish the circumstances surrounding their deaths.
"A Fatal Accident Inquiry four years after the death is not unusual and while this may deliver answers for bereaved families it also delays the grieving process and often opens wounds that have begun to heal."
The former Lord President, Lord Cullen, reviewed the FAI process four years ago and the Scottish government has said it was committed to implementing his recommendations by the end of this parliamentary session.
Among the major FAI held in Scotland was the one into the Lockerbie bombing by Sheriff Principal John Mowatt QC in October 1990.
At the time, some relatives of the victims said they were disappointed the inquiry was concerned with simply establishing the facts of the bombing, rather than discovering why it happened and who did it.
Investigations unit
The Scottish government said it was committed to bringing forward its own bill to implement the recommendations of Lord Cullen's Review of the Fatal Accident Inquiry Legislation "within the lifetime of this Parliament".
A spokeswoman said: "Some of these recommendations were addressed to the Crown Office and Procurator Fiscal Service and have already been implemented, including the establishment of a Scottish Fatalities Investigation Unit.
"Investigating deaths is a highly sensitive and complex area of work, and it is vital that Procurators Fiscal investigate deaths thoroughly and professionally. The length of time taken to investigate will vary depending on the individual circumstances of each case."
She added: "Lord Cullen did not recommend that sheriffs' recommendations should be legally binding and there would be practical difficulties in doing so. The present system offers flexibility - some recommendations may have wider implications, while others may only be relevant to the circumstances of that case."