Doctors who fail on hand-washing 'should be sanctioned'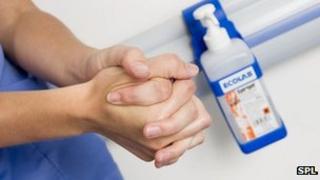 NHS doctors should face disciplinary procedures if they fail to meet hand-washing standards, according to the Scottish Conservatives.
Health spokesman Jackson Carlaw said stronger action was needed, as NHS figures suggested one in 10 doctors did not meet hand hygiene standards.
An NHS hand hygiene audit in May showed overall compliance in Scotland was 96%, but only 90% among senior medics.
The Scottish government said there was no room for complacency.
Mr Carlaw, who is also the Scottish Conservatives' deputy leader, said: "We need to consider the possibility of disciplinary action against doctors and anyone else who continually fails to meet hand hygiene standards."
The audit suggested that compliance rates among doctors continued to lag behind that of other health workers, with the audit suggesting standards were being met by 98% of nurses and 97% of allied health professionals who include radiographers, podiatrists and physiotherapists.
Mr Carlaw criticised doctors in particular, and said: "It is a real problem that the very people who are supposed to be setting an example on wards are failing so spectacularly to do so.
"You could understand, in a wide-ranging observation, for a handful of people to occasionally fall below standards. But for 10% of hospitals' best paid and most senior staff to be failing this crucial measure is absolutely alarming.
"Hospitals have learned lessons on hygiene the hard way in recent years. We know how costly infections like MRSA, C.diff (Clostridium difficile), norovirus and even seasonal flu can be.
"So the fact the message is still not getting through means stronger action has to be taken, because this has been a problem for some time."
A Scottish government spokeswoman said: "Good hand hygiene is recognised as one of the most effective ways of preventing the spread of infections such as Clostridium difficile and MRSA in our hospitals.
"National hand hygiene compliance by NHS staff remains consistently high at 96% but there is no room for complacency.
"All NHS chief executives should continue to encourage a culture of zero tolerance by all NHS staff towards non-hand hygiene compliance."
A few months ago, Scotland's chief medical officer Sir Harry Burns said hand washing for 15 seconds at a time was vital in preventing infections such as norovirus.