'People need to wake up to diabetes risks'
Dr Matthew Young works at one of Scotland's largest diabetes clinics, at Edinburgh Royal Infirmary.
About 10,000 Scots are diagnosed with the condition each year.
Dr Young explains why is it important for people to be aware of the risks of getting diabetes, and how it can be avoided in the first place.
"In 1987, a chilling public information film warned us not to "die of ignorance" when AIDS came to wider public awareness changing the attitudes of a generation to safe sex, and AIDS never became the "plague" that was feared.
Sadly the obesity epidemic has not reached public consciousness in the same way.
Safe eating and drinking is in the minority and the UK population, and Scotland's in particular, gets heavier every year.
With more than 50% being overweight or obese, diabetes has risen in prevalence and nearly one in 20 adults now have the condition.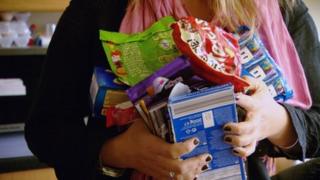 More than 90% have Type 2 diabetes, which is associated with central abdominal fat distribution and high blood pressure, cholesterol and abnormal blood clotting.
These increase heart attacks, strokes and arterial disease in the legs and more than 70% will develop one of these, so Type 2 diabetes dramatically shortens lives, on average by 10 years.
As the age of onset of Type 2 diabetes gets lower, due to rising teenage obesity rates, this fore-shortening is magnified and the current generation may die younger than my generation.
Hopefully, the UK can wake up to the risks of increasing obesity before it comes to this.
Even modest increases in exercise can halve the rates of onset of diabetes and some diets can put diabetes into remission.
Unfortunately, the general messages on diet and exercise get muddled with apparently simple advice like eating five a day being clouded by conflicting advice, making the choices harder.
Dying prematurely
We need a simple message such as eat less and do more to prevent this generation dying prematurely from ignorance about the facts about diabetes and mortality.
However, even this excessively high death toll pales in comparison to that of patients with diabetes foot ulceration.
Nerve damage and vascular disease increase the risk of foot ulceration. Patients with foot ulceration have twice the death rates of the general diabetes population, mostly cardiovascular death.
Historical death rates should have improved with statins and blood pressure reduction recommended for Type 2 diabetes patients.
Unfortunately, 21st Century mortality rates from diabetes foot ulceration have hardly changed, with 46% five-year and 70% 10-year mortality despite multi-disciplinary care in specialist centres.
These mortality rates are worse than nearly every cancer except stomach, oesophageal and pancreatic.
Why is this? The diabetes foot population has pre-existing cardiovascular and cerebrovascular disease with high levels of hypertension, kidney damage and renal failure.
Diabetes control is poorer in ulcer patients than the general diabetes population. All these factors increase mortality and there are many obstacles to reducing death rates in ulcer patients.
Cardiovascular prevention therapies are effective following a heart attack, but prescribing does not reach 90% and patient treatment continuation rates are lower.
Few, if any, patients realise the impact on their life expectancy, treatment rates and adherence are lower and outcomes remain poorer.
Only one, relatively small, study from my own unit has demonstrated that aggressive cardiovascular risk management in foot ulcer patients can reduce five-year mortality, providing some evidence that things can improve.
Few diabetes patients realise that they are at such a high risk of death and my foot patients even less.
Whether this knowledge would change their behaviour is unclear but, similarly to the 1980s, I do not believe that we should let them die of ignorance."
BBC Scotland Investigates: Scotland the Fat will be shown on BBC1 Scotland on Thursday 15 August, at 20:00, and for a week afterwards on the BBC iPlayer.