Remembering the days of 'frugal but healthy' meals
A Mori poll commissioned for a BBC investigation found the majority of Scots no longer cook for themselves, with more than half (55%) relying on ready meals or takeaways at least three times a week.
Catherine Brown, author of Scottish Cookery, tells the BBC how the Scottish diet has changed over the decades.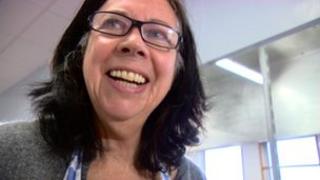 "For dinner at one o'clock there was a plateful of thick meat and vegetable broth. Maybe a ham bone with lentils or the stock from a boiling chicken thickened with leeks and rice.
Scotch Broth came with pearl barley and a piece of flank of beef or mutton. Always a small amount of the cheapest cut of meat. Fresh vegetables such as carrot, turnip, onion, leek and parsley were always a feature, as was some cereal. Always a warming meal-in-a-plate.
Meat and potatoes were for Sundays. Perhaps an oxtail stew, tender meat sliding of its own accord from the sculptured bones left on the plate. Or it might be a plateful of rich brown oniony mince topped with misshapen mounds of fluffy suet dumplings instead of potatoes. Sometimes it was a plateful of chewy tripe surrounding a mound of mealy tatties.
These were the dishes we ate at midday. All slow-cooked in the large pot which sat on a coal-fired, iron range in the cramped East End tenement kitchen of my Glasgow grandmother in the 1950s.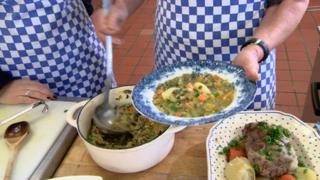 Through two World Wars, and a depression which hit the urban population badly, I realise now how remarkable it was that she still hung on to these old Scots frugal but healthy eating habits.
Her Highland counterpart did things differently. In the seven crofting counties where the rural population practiced self-sufficiency, meat was also a scarce item, eaten sparingly. For their Scotch barley broth, a small piece of their own salt mutton released its unique flavour.
Their broth was also less meat than vegetable, their method the same. The tough cuts, with lots of bone and sinewy muscle, were simmered and stewed over the slow-burning peat fire in the big pot till tender and falling apart.
Then the meat was cut up finely for adding later. If a less tough cut had been used, this was sliced and eaten separately, often with oatcakes or bannocks. Vegetables - mostly carrots, turnips, onion, leeks - might be joined at the end with finely chopped kale or nettles.
In an age of fast and highly-processed food, this method of extracting maximum flavour from slow cooking with the minimum of fuel has several assets.
But its greatest is that it ticks both the low-calorie and the high food value boxes.
A sugary drink might provide an instant energy burst, but meals-in-plates from pots of broth have the power to sustain life."
BBC Scotland Investigates: Scotland the Fat will be shown on BBC1 Scotland on Thursday 15 August, at 20:00, and for a week afterwards on the BBC iPlayer.