Plea over Scottish reptile sightings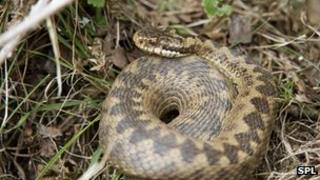 Conservationists are seeking public help to record Scotland's snake, toad and lizard populations.
The Amphibian and Reptile Conservation (ARC) charity has asked people to report sightings in order to help them preserve numbers.
It said Scotland may be an important refuge for species such as the common toad and the adder.
The appeal for sightings is part of a wider three-year project funded by Scottish Natural Heritage (SNH).
The State of Nature report, led by the RSPB and backed by Sir David Attenborough, was published earlier this year. It found that about 60% of animal and plant species in the UK were in trouble.
ARC has now said more information is urgently needed on Scottish amphibians and reptiles.
'Real contribution'
It wants members of the public who spot frogs, toads, newts, snakes - such as adders - or lizards to go online and record the sightings.
The information will be used to create an up-to-date Scottish Amphibian and Reptile Atlas, with the data helping to prioritise conservation work across Scotland.
The charity's Scottish project officer, Dr Pete Minting, said: "Nothing beats the look on someone's face when they first see a wild adder or hear a natterjack toad calling - it can be a life-changing experience."
The sighting project has been launched as part of the Scottish government's Year of Natural Scotland campaign.
John McKinnell, policy and advice Officer at SNH: "It is good to support this project, which will encourage the public to make a real contribution to the study and conservation of a relatively neglected part of Scotland's nature.
"It is good that the project aims to increase our knowledge of all of our native amphibians and reptiles, not just the ones we already know are rare."