Scotland's last execution: The story of 'Harry' Burnett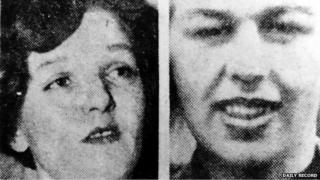 Henry "Harry" Burnett died at the hands of the hangman on 15 August 1963. Since that day 50 years ago, the words "judicial hanging" have never appeared again on a death certificate issued in Scotland.
The scene of Burnett's execution was Craiginches prison in Aberdeen. His crime was murder.
It was a crime of passion carried out after Burnett found himself ensnared in a complex love triangle.
But after he blasted his lover's husband to death with a shotgun in May 1963 he was living on borrowed time.
Burnett, 21, had fallen for 25-year-old Margaret Guyan, a work colleague whose husband Thomas was often away at sea.
The Guyans had married six years earlier in 1957 and lived in a flat in Jackson Terrace, Aberdeen.
In September 1958 they had a son.
Margaret had a second child in February 1961 - but her husband was not the father.
After a series of rows she sought legal advice but her husband refused to divorce.
Trapped in a loveless marriage she took up a job in December 1961 at the fish curing firm John R Stephen.
One of her colleagues was the youthful, fair-haired Harry Burnett, who quickly became an admirer of the slim, attractive new start.
They got on well and within a few months she plucked up the courage to leave her family home.
She took her younger son Keith with her and moved in with Burnett at a house in the city's Skene Terrace.
But Burnett was fearful of losing Margaret and suffered extreme pangs of jealousy.
Marital home
He feared that Margaret may leave him in the same way as she had left her husband.
He took to locking her in the house whenever he went out.
By April 1963, Margaret could cope no longer and planned to leave Burnett.
She seized her chance when she bumped into her estranged husband on 31 May.
He had not wanted to separate and when he suggested a reconciliation she agreed to move back to the marital home.
She went to Burnett's home in Skene Terrace at 4pm, to collect her son and, for support, took her friend Georgina Cattanagh, 66.
Burnett was at home and exploded with anger when she told him of her plans.
He screamed: "Margaret, Margaret, you are not going to leave me!"
He pulled a knife and held it to her throat as Mrs Cattanagh was locked outside and left banging on the door, begging for Burnett to free her friend.
Minutes later, Burnett left the house and ran off.
Uninjured, Margaret went to the family home in Jackson Terrace.
Meanwhile, Burnett went to the home of his brother, Frank, in the Bridge of Don area.
He knew Frank kept a shotgun. He forced open the gun cabinet and stole the weapon and cartridges before boarding a number 14 bus for Jackson Terrace.
Burnett forced his way inside the flat as Mrs Cattanagh screamed: "You can't come in here!"
Shocked Thomas Guyan opened the kitchen door and Burnett shot him in the head.
He collapsed to the floor, his face a mask of blood, and died instantly.
Margaret had been watching TV, her young son sitting on her lap.
Burnett grabbed her and dragged her down a lane as far as a petrol station in Seaforth Road, on the main route north out of Aberdeen.
A local man, John Irvine, was filling his car with petrol when Burnett demanded his vehicle telling the innocent bystander: "Is this your car, pal? I'll take it now."
Irvine tried to stop him and then attempted to let down the tyres but Burnett threatened to shoot him and drove off.
Burnett proposed to Margaret as they sped off and she later told the jury: "I said I would marry him."
The police were quickly on the scene and followed the car north towards Peterhead.
After 15 miles Burnett pulled over, near Ellon, and offered no resistance as he was arrested by two constables.
He gave up without a struggle, telling them: "It's me you want."
Quizzed later by detectives his first words were: "I gave him both barrels. He must be dead."
At his two-day trial in July, Burnett claimed insanity or that it was a case of diminished responsibility.
His mother Matilda spoke on behalf of Burnett but broke down in tears before telling her distressed son in the dock: "Henry, it's OK, my loon. I'm OK."
She said that as a boy Burnett played truant, threatened his sisters with a knife and once tried to commit suicide.
Medical evidence included statements by two doctors, one of whom said Burnett had signed himself into a mental hospital after his failed suicide bid.
The doctors considered him insane at the time of the murder.
But the jury took just 25 minutes to throw out his claims and find him guilty.
Margaret said afterwards: "I can't say why but I know I still love him. Tommy was at sea when I met Harry. We fell in love.
"On the day of the murder my husband and I were together again but I knew it would be the same old story and we would part.
"I am sorry Tommy had to die but I never knew it would end this way."
And of the killer, she said: "I said I would marry him before and I still stand by him.
"My heart is with Harry. People can talk but I still love Harry."
Burnett had few thoughts for Margaret as he wept in the cells and as he prepared for the noose told his brother Frank: "I want to die to put an end to all that."
After he was sentenced to death, his own family as well as the dead man's relatives petitioned for a reprieve.
The dead man's mother Jeanne Guyan, 54, said: "I don't want revenge. The last thing I want is that he should die. His death won't bring my Tom back.
"When my grief wore off I got to thinking about the boy's mother and my heart went out to her. It was a terrible thing he did but he's only a laddie."
But there was to be no clemency.
When the reprieve was denied on 14 August, Burnett reacted calmly as relatives broke the news in Craiginches Prison.
He told them: "Don't worry about me. It's like the Ritz in here."
The two lovers were reunited to say their final goodbyes in a 30-minute meeting the day before the hanging.
The next day, at 8am on 15 August 1963, he was executed as a crowd of more than 300 people gathered outside the jail.
The Murder (Abolition of Death Penalty) Act 1965 suspended the death penalty for murder for a period of five years.
The abolition became permanent in 1969.