More Scots students secure university places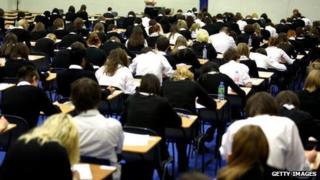 Nearly 3,000 Scots have found a place at university since the exam results were published last week, according to official figures.
The admissions body Ucas said 25,550 Scots now had a place at a university north of the border.
The majority of the 2,780 youngsters who have found places in the past week used the clearing system.
This helps allocate spare places to those who fail to get the results to qualify for their first choice courses.
Universities have strongly denied claims the clearing system put Scots at a disadvantage to students from the rest of the UK.
Clearing process
By the time the exam results were published last week, Scotland's 19 universities had accepted 22,770 Scottish students between them.
These applicants would either have received unconditional offers based on the qualifications they already had, or would have got the exam results they needed.
Critics noted that hundreds of courses in Scotland were still accepting applications from people in England, Wales and Northern Ireland through the clearing process last week, but a relatively small number were taking applications from Scots.
Alastair Sim, director of Universities Scotland, said: "Even before clearing opened to Scots we were delighted to see more Scots than ever before accepted into university in Scotland.
"Last week we were keen to get the message across that clearing places were available to Scots and that more universities were in the clearing system this year compared to last. Today's figures show thousands more finding places through the clearing system over the last week.
"It's great news that even more students will have the opportunity to realise their potential at university."
The latest figures from Ucas also show that the number of applicants from the rest of the UK accepted by Scotland's universities is up by 400, or 9.3%, compared to the same time last year.
There has been a 6% drop in the number of students accepted from other EU countries but a 9% rise in "international" students - those from outside the UK and EU.
Mr Sim said: "It's encouraging to see a modest increase in the number of students from the rest of the UK coming to Scotland and it's a ringing endorsement for Scottish higher education.
"With some of the highest levels of student satisfaction and the UK's best rates of graduate destinations, we know we have a lot to offer students - and it's clear that this is recognised across the UK."
Record level
The clearing system allocates "spare" places to students who did not get the exam results they had hoped for.
The number of places at Scottish universities for Scottish and EU students is capped because they do not pay tuition fees.
The number of places is at a record level, but the overwhelming majority were filled by students who already had the necessary qualifications or got them last week. This means a relatively small number are available through the clearing process.
Universities can decide for themselves how many students from England, Wales and Northern Ireland to take in, although they are charged tuition fees of up to £9,000 a year.
The final numbers accepted into Scotland's universities should be known in the next few weeks.
Minister for Youth Employment Angela Constance said that Scottish students get a good deal based on "the ability to learn and the ability to pay".
She added: "I am pleased to see the extra places that we are funding are paying off and helping more young Scots meet their ambitions of going to university.
"These figures are good news for our young people, our universities and our economy.
"I'd strongly encourage any young Scots who have still to decide on their next steps to phone the exam results helpline to discuss their options - including our guarantee of a place in education or training for every 16 to 19 year old."