Third Australian monk implicated in Fort Augustus sex abuse scandal
A third Australian monk has been implicated in a suspected paedophile ring at a former Catholic boarding school in the Highlands.
In a BBC programme, Australian monks Fr Aidan Duggan and Fr Chrysostom Alexander were exposed as paedophiles.
They inflicted physical and sexual abuse against pupils at Fort Augustus Abbey School and feeder school Carlekemp, East Lothian.
Now Fr Fabian Duggan, Fr Aidan's brother, has been accused of sex abuse.
The BBC has spoken to four former pupils who were abused, or witnessed abuse by Fr Fabian.
Kees Vogt, who started at Carlekemp as a nine-year-old in 1969, is one of them.
He told the BBC: "Father Fabian had a long narrow room and what he would do, he would tend to call children in to talk to them. And, what he would then tend to do, is he would go to the other side where you would be trapped inside the room and you couldn't get out again.
"One time I was in there, I have no idea why I was in there, and then he basically just put his hand down inside my trousers and started to fondle me. I turned away as fast as I could and rushed out."
Mr Vogt, from Tanzania, was also abused by Fr John McBride, about whom the BBC has heard allegations from 10 former pupils.
"It was endemic, " Mr Vogt said. "It happened the whole time…and I knew for myself that even though priests tried to do things to me, there was really no point to report this to other priests or anything like this. Because you would just be told that you were a liar."
The BBC submitted allegations to Fr Fabian and the Sydney Catholic church last Friday. He died the same day, aged 83.
All three Australian monks left Fort Augustus in the 1970s.
No warnings were given by the Benedictines to the receiving Catholic authorities in Australia, even though the BBC has established there had been complaints of abuse at Fort Augustus in the cases of Fr Aidan and Fr Chrysostom.
All three became parish priests in Sydney. Fr Aidan, who abused boys over three decades in Scotland, went on to commit further abuse in Sydney. He died in 2004.
On Wednesday, former head teacher of Fort Augustus, Fr Francis Davidson, resigned from his post at Oxford University over allegations he covered up abuse at the school in the 1970s.
The BBC has spoken to about 50 alleged victims of physical and sexual abuse at the two schools, which are now closed.
Ten monks are now accused of physical abuse, four monks and a lay teacher of sexual abuse, including rape, and three headmasters of cover up.
Extradition calls
Calls have been made for an independent inquiry into the deepening scandal.
With police investigations in both Scotland and Australia, there is mounting pressure on Fr Chrysostom, the last monk alive accused of sexual abuse, to be extradited back to the UK.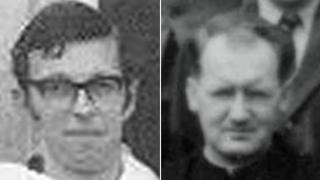 On Wednesday the BBC revealed fresh allegations of abuse by Fr Chrysostom.
Hugh Kennedy said he looked forward to facing his alleged abuser in court.
Mr Kennedy's claims led to the resignation of Fr Francis Davidson from a prominent position as Benedictine religious superior at St Benet's Hall, in Oxford University.
Fr Davidson, as headmaster of the school in the 70s, is alleged to have covered up a complaint about Chrysostom.
Ian Dobinson, senior lecturer in criminal law at the University of Technology in Sydney, told the BBC that the extradition of Fr Chrysostom was a distinct possibility.
"There is no apparent obstacle to his extradition assuming he is of good health and there is no other apparent obstacle and that the Scottish authorities are able to present their case before the court," he said.
"Then I don't see that there would be any obstacle to sending him back."
'Trust lost'
Earlier, Scotland's leading children's charity Children 1st called for a full inquiry into the scandal.
Chief executive Anne Houston told the BBC's Good Morning Scotland programme said an internal inquiry would be unacceptable.
"They (the Catholic Church) must open their doors and they must pass on any and all information they've had both to the police investigation but also to someone who's independent who can set up that kind of inquiry.
"The trust is lost. It's hugely important for the victims."
The NSPCC has also called for an independent inquiry.
Peter Watt, director of child protection, said: "Over decades the Catholic Church appeared to be more interested in protecting its own reputation than protecting the interests of the children it was supposed to be caring for."
BBC Scotland Investigates: Sins of Our Fathers will be broadcast again on BBC2 on Monday 19 August at 23:20, and for a week afterwards on the BBC iPlayer