The mosque kitchen 'open to all'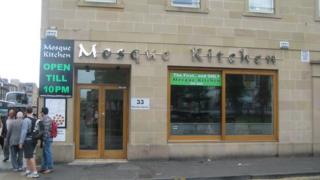 A Scottish curry restaurant, set up in the aftermath of 9/11, is still proving popular among locals more than a decade after the US tragedy.
The Mosque Kitchen in Edinburgh, which used to cater just for its congregation when it first began in the 80s, opened its doors to non-Muslims following the attack on the World Trade Center's twin towers in New York in 2001.
Mubashar Ali, is the manager, who has been working there since its inception.
"It used to open every Friday after prayers where we used to sell chicken and rice for £2," he says.
"After 9/11," he adds, "an exhibition was set up in the mosque to raise awareness about Islam which attracted people from all faiths including Christians, Hindus and Sikhs.
"It was at the same time that people became aware of the little kitchen serving food to its worshippers.
"We wanted to show people that Islam is not about terror and so we extended the restaurant and started opening every day and also began welcoming people from other faiths," Mubashar says.
He says "at first people were a bit scared and hesitant but it didn't take long for it to become a popular local curry house".
Popular curry house
Ayla has lived in Edinburgh for more than 20 years.
"The Mosque Kitchen is a friendly, cheap place where everybody can afford a tasty meal," Ayla says.
Local Fahad Beg comes to the restaurant a few times a week.
He used to attend Edinburgh mosque and then go for a meal after prayers when they first set up.
He admits he has "developed a taste for it". He thinks "it's a great idea for different people to gather under one roof".
Paper Plates
The Mosque Kitchen lays out its curries buffet-style and invites customers to come and choose what they want to eat. The food is served on paper plates for about £5.
Hamza is one of the cooks. He says rice is the most popular dish among the many people who come to eat there.
For overseas students it is a perfect eaterie.
"It's the closest you can get to Indian food back home in all of Edinburgh" says Maithlee, who has been studying in the city for three years.
Sahil, a vegetarian, says the "rice and lentils is just like his mum's cooking in India".
The idea of a restaurant attached to the local mosque has proved so popular that the owners have now had requests from around the world, including China and Japan, to set up a similar a concept but so far the Mosque Kitchen remains one of its kind.