Public urged to 'save Scotland's seas'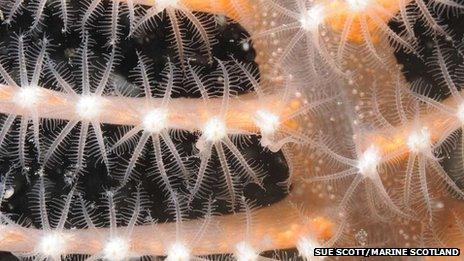 People could be missing a "once-in-a-generation chance" to address hundreds of years of decline in Scotland's seas, according to an environment coalition.
Scottish Environment Link have urged the public to take part in the Scottish government's consultation on the issue.
The plans include a network of Marine Protected Areas (MPAs) designed to reverse declining biodiversity in seas.
Link members said this network was vital to secure the recovery of Scotland's seas, that had suffered from centuries of pollution, overfishing and damage to the seabed.
They said the public consultation was key to determining the future health of the marine environment and the sustainability of development at sea.
The groups - which collectively represent nearly 500,000 members - have launched the online Save Our Seas campaign to enable people to show support for MPAs and the recovery of Scotland's marine environment.
Calum Duncan, of Marine Conservation Society, said: "The ecological health of our seas has been in decline for many years and the traditional industries reliant upon them have suffered; because of this, our maritime culture is also at risk.
"A network of MPAs has the potential to benefit us all in the long-term, but they will need strong local support and must be managed well if they are to recover our seas to better health."
Richard Luxmoore, head of nature conservation for National Trust for Scotland said Scotland's seas rivalled the world's tropical ocean hotspots.
But he warned: "Rich seabed habitats that used to carpet our coastal waters have disappeared.
"And people up and down the East and West coast remember a very different past, where harbours were booming, estuaries overflowed with sea trout and anglers flocked to internationally renowned fishing festivals.
"There are whole areas now where our sealife is in decline."
Members of Link also want to see an MPA network goes further so that it protects seabirds, whales, dolphins, porpoises and basking sharks.
Link said turn-out was low for the first event in Edinburgh last week and even fewer appeared in Lerwick the following day.
The 16-week consultation runs until 13 November.
Related Internet Links
The BBC is not responsible for the content of external sites.