Vocational education 'key to growth'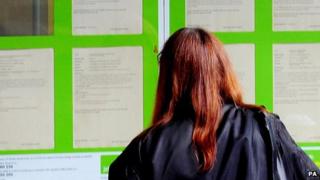 Scotland should focus on providing high quality vocational education for school pupils to help drive economic growth, a commission has concluded.
The commission was set up by the Scottish government as part of plans to reduce youth unemployment.
Its interim report said the country had an "ill-informed" view of vocational education as an inferior option.
Vocational education should be enhanced to the same "acclaimed status" as the country's universities, it argued.
The Commission for Developing Scotland's Young Workforce is being led by the Aberdeen oil industrialist Sir Ian Wood.
Its report said Scotland needed and had the potential to secure a highly educated, skilled and well motivated young workforce able to compete with any in Europe.
'Higher skills'
The commission proposed that this be achieved through a closer partnership between schools and colleges.
It said less-academic pupils currently going into S4 often "don't want to leave school because there's no jobs, but see no pathway nor destination, and drift, with no real purpose, fast becoming bored and frustrated".
It has proposed that pupils in the senior phase of Curriculum for Excellence at school should have the option to study at their local college for industry-recognised vocational qualifications.
A pupil in S4 would have the opportunity of doing a National Certificate and then a Higher National Certificate at school by part-time attendance at college, as well as more traditional school qualifications.
Sir Ian said: "This will immediately provide the pathway and destination and ensure much better value out of the S4 to S6 period at school as well as producing more youngsters with the higher skills required in the modern economy.
"Building on this partnership between schools and regional colleges, it should also be possible to better prepare young people for entry into Modern Apprenticeships which could provide a credit toward their apprenticeship.
"These proposals are practical, don't have significant cost implications after the transition phase, and can be fairly quickly implemented with the flexibility the Curriculum for Excellence now provides in S4 to S6 at school and the regionalisation of colleges."
Other key features in the recommendations focus on the importance of employment opportunities and work readiness.
The commission strongly supported the development of a comprehensive careers advice and work experience programme, with the careers advice made available at an earlier stage in schools.
This would help young people be much better informed about future career options, it said.
The primary focus of colleges should be on employability and supporting local economic development, with the report recommending colleges play a greater role in the development of Modern Apprenticeships.
The commission also called for greater industry leadership of the development of Modern Apprenticeships and their promotion to employers.
'Improving links'
And it made recommendations to improve access to and progression within Modern Apprenticeships, including introducing some enhanced branding for the higher level apprenticeships.
Sir Ian added: "In the second half of its work, the commission will focus on steps to encourage many more employers to become involved in education and youth employment.
"As well as improving links between industry and education, we must focus on getting more employers to employ more young people. Approaching both of these issues is what makes the commission's challenge unique and important."
The commission will also make further recommendations on college education and equality issues in its final report, which it plans to publish in the spring of 2014.
Minister for Youth Employment Angela Constance said: "Scotland continues to make good progress on youth employment and we remain better placed than the rest of the UK, but we aspire to be amongst the best in Europe.
"Our discussions with employers and other EU countries have highlighted a clear link between vocational training and low youth unemployment which is where much of our efforts must now be focused.
"The advent of Curriculum for Excellence will see our young people better placed than ever to progress in the global jobs market and our colleges are also focused on economic growth and preparing young people for employment.
"We are continuing to create 25,000 Modern Apprenticeship opportunities every year and every 16 to 19-year-old in this country has a guaranteed offer of a place in education or training."
Andy Willox, Scottish convener of the Federation of Small Businesses, added: "For too long, many of our decision-makers haven't realised the importance of vocational education to the real economy.
"The FSB welcomes today's report because we understand a high quality education and training system is vital to the country's success.
"Further, high levels of unemployment and underemployment, even amongst graduates, suggests we need to change our approach."
CBI Scotland's senior policy executive Lauren Paterson said: "The default route of Highers then university is not suitable for all - young people learn in different ways and have different interests.
"Although just over half of young people in Scotland go to university already, we still need to expand and promote apprenticeships to equip young people with the skills the economy needs".