Pinochet coup: The Chilean exiles who escaped to Scotland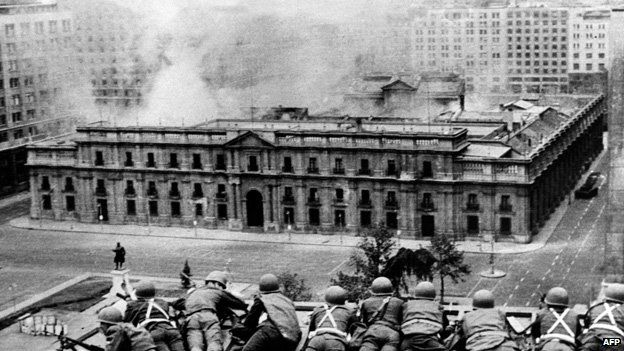 The 40th anniversary of the coup which ousted the elected Marxist government in Chile and installed a junta ruled by General Augusto Pinochet is being marked by events in Scotland.
After Pinochet seized power on 11 September 1973, there followed 17 years of persecution, torture and disappearances which forced hundreds of thousands of Chileans to flee the country.
Political activists, artists, musicians and intellectuals, and their families, initially crossed into neighbouring Peru and Argentina.
Thousands headed on to Europe, settling in countries ranging from Sweden and Spain to East Germany and Scotland. In total about 500 ended up living in Scotland.
Among them were also ordinary working people, including a group sponsored by the mining community in Cowdenbeath in Fife, as well as other groups dispersed around the UK.
Carlos Arredondo, who worked in a guitar factory, was one of the first refugees to arrive in Scotland, coming to Glasgow in October 1974.
He became a prominent singer-songwriter and political and cultural campaigner for justice.
Mr Arredondo said that after Pinochet seized power it had not taken long for the effects of the coup to be noticed.
He told BBC Radio Scotland's Songs of Courage programme: "In my own barrio, in my own area, we straightaway came to know that there were people being disappeared, they didn't arrive home.
"When I was living in Glasgow I learned about the killing of five of my friends who belonged to the same organisation I used to belong to - a Catholic youth organisation."
In negotiations with the UN High Commission for Refugees, the UK had accepted 3,000 Chilean refugees.
In the UK, organisations began to coalesce into the Chilean Solidarity Committee, with some of the first becoming active around Glasgow, Edinburgh, Stirling and Dundee.
Mr Arredondo said arriving in Scotland was strange but had not been a complete culture shock.
He said: "I was part of a bunch of people coming on a bus on a rainy night and arriving in Glasgow. We thought it was very poor, but more than anything else there was a lot of drunk people on the street.
"But that for me, instead of giving me a reaction - and a negative reaction - it gave me the opposite reaction because I come from a working class area where drinking is at the centre of all culture."
Music became an important link for Mr Arredondo and continues to be a way to connect with Chile and commemorate those victims of the dictatorship. He is involved in a series of events and a concert to mark the 40 year anniversary.
Mr Arredondo said his story began in Chile but continues to evolve in Scotland as a direct result of the bloody coup.
The overthrowing of the Salvador Allende government by Pinochet saw a strike by two Hawker Hunter Chilean air force fighter jets on the presidential palace La Moneda in the capital Santiago.
Engines from the air force were later sent for maintenance to the Rolls Royce factory in East Kilbride, where they had been built, but in solidarity with the plight of the Chilean people workers refused to carry out repairs.
The workers also "blacked" the engines, refusing to let them leave the factory. Four years later the machinery disappeared in the middle of the night.
Mr Arredondo said shortly after he arrived he was encouraged to use music as a way to reach out to Scots and to go to thank staff at the factory.
The story of the "blacked" engines has been retold in a new documentary by director Felipe Bustos Sierra, called ¡Nae Pasaran!, which is also being shown this month.
One of the former Rolls Royce staff said: "A lot of us in my age group spent quite a number of years fighting dictatorships, so dictatorship was a nasty word to us."
In Cowdenbeath, the locals were also quick to open their doors to the exiles from South America.
Diane Dixon, who became involved with the Chilean Solidarity Committee, said most people stayed with Scottish families when they first arrived.
She said: "I remember taking one family up to Fife and everything had been thought about. The whole house had been furnished by people gifting whatever they had that they thought they might be able to do without.
"Everything that they could possibly think of had been put into the house - including beds - right down to the coal burning in the fire.
"What many refugees go through today, or people attempting to be refugees go through today, there just is absolutely no comparison and that was about the Scottish Labour movement, together with Scottish churches, together with women's organisations, a whole range of people came together to make that possible."
Another exile who used music to connect with Scotland was Galvarino Ceron Carrasco, who studied classical guitar and has also played with Salsa Celtica.
Members of his family settled in Dundee when he was finishing primary school in 1978. He said: "I just learned the music by ear but I got interested in the classical guitar in Whitfield High."
His sister Ruby said they had an older brother and sister who remained in Chile.
She added: "I used to sing, that was my way to fight against Pinochet and to bring to Scotland my message. Everything, particularly the political events, began with us singing something, somebody had to sing and when Pinochet left power actually I stopped and my guitar is still there in its case.
"I thought, well, I've done my part and it's very difficult for me now to sing."
Ms Ceron Carrasco remembers it took about 15 years to accept that she was staying in Scotland.
She said: "I remember the first time I had a sense of being home, because I travel a lot - I'm an archaeologist - and one time I returned from Portugal doing fieldwork there and when I arrived in Edinburgh I had this beautiful sense inside of relief and I thought 'Gosh, this is what it feels like being back home, this is my home'.
"I had no friends in Chile, I have family and I have made friends but my history is in Scotland."
She added: "Our mother was an amazing woman, she was very quiet and very calm and I think sometimes that she died of a broken heart at the end, because it was too much.
"It has taken me almost 40 years to be able to openly speak about the pain, because for many years I felt very selfish, why should I talk about my pain when so many people were killed, so many were tortured to death, the cruelty was horrendous."
The impact of the coup and the Pinochet regime has shaped and still causes divisions in modern Chile.
It can only be a matter of speculation what Chile would have been like if the Allende government had been allowed to remain in power, but that question is academic for the families of the dead and the disappeared, the dispersed and the descendants of the dispersed.
Their lives too have been forever shaped by the events of 11 September 1973.
Related Internet Links
The BBC is not responsible for the content of external sites.