Delivery charges 'summit' offer made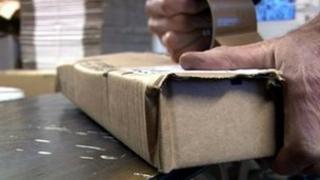 The UK's consumer affairs minister has offered to host a summit of online retailers in a bid to reduce the delivery surcharges on goods to remote parts of Scotland.
Jo Swinson was responding to the West Aberdeenshire MP Sir Robert Smith, who has introduced a bill aimed at tackling "unfair" delivery charges.
The bill was talked out of time by a Tory MP.
But Ms Swinson said legislation was not necessary to deal with the problem.
Instead, she said retailers would be encouraged to have fairer delivery charges.
Research has suggested a million Scots face surcharges, late delivery or are refused delivery altogether when they try to buy goods online.
Distributors have previously argued it was more expensive to make one delivery to a rural location far from a distribution centre than in a city where 10 or 15 deliveries were being made in a single day.
Sir Robert, a Liberal Democrat MP, said online sellers should display the existence of surcharges for delivery to certain UK areas at the beginning of the shopping process.
He called on the government to adopt his Delivery Surcharges (Transparency for Consumers) Bill which would make Business Secretary Vince Cable and his department bring forward regulations within a year to make online retailers be more transparent about costs.
Sir Robert said retailers do not do enough to provide a delivery system that works for the whole of the UK.
He told the Commons: "This is an extended problem across much of the geography of the United Kingdom, mainly in the Highlands and the north of Scotland but also extending down into the borders of Scotland and to the islands of England - the Isle of Wight, the Channel Islands, the Scilly Isles.
"It's part of a wider awareness raising because I think the retailers need to be more focused because they are looking at the vast majority of their customers, are thinking of a delivery system and not shopping around for one that will deal with those at the margins.
"What a lot of retailers could be looking at is Royal Mail's universal service delivery products for those areas that can't be dealt with by couriers and should make a serious consideration of that."
Shadow business minister Ian Murray voiced Labour's support for the bill and said it was in businesses' interests to be more transparent about costs.
Mike Weir, the SNP MP for Angus, said delivery charges were a "huge issue" for rural Scotland.
But he added: "This bill would help ensure that those buying online would be aware of the charges and delivery conditions from the outset, although it would do nothing to reduce these charges or increase the choice for those in rural areas".
Ms Swinson said the government supported the principles behind the bill, but did not believe legislation was necessary.
'Transparency and fairness'
She added: "If you live on an island you know from personal experience that if anything is to get on to the island then it has to either be flown in or come in on the ferry and that can have an impact on costs of all sorts of things.
"And while I think we want to make sure those consumers also have information you were quite right to outline that if you are living in the suburbs of Aberdeen you're perhaps not quite in the same mindset of expecting to suddenly be hit by massive delivery charges when you are by no definition living in a remote area.
"So I very much support the principles of clarity, transparency and fairness for consumers that lie behind the bill that you have brought forward today, these are principles that the government fully supports.
"I'm happy to bring together some of the retailers to a summit to discuss this issue... and really have a mix of attendees there. I think it would be good if we could identify some of the businesses that are exemplars in this area, that provide the information at an early point, that have managed to give alternate delivery options."
Sir Robert's proposed legislation followed intensive campaigning on the issue by the Citizen's Advice Scotland (CAS) service.
Its Postcode Penalty report published in December concluded that more than a million people living in Scotland were being "routinely ripped off" by unfair delivery charges.
Refused to deliver
The report claimed people living in Scotland's island communities had to pay nearly £18.60 extra on average to have goods they bought online delivered - a 500% mark up on the standard delivery price.
Customers in the Highlands were charged an extra £15 per delivery on average, it said.
Many online retailers refused to deliver goods to any Scottish islands, with a third saying delivery would take longer for customers in some parts of the UK.
Of these, 39% took an extra three or more days to deliver to consumers in certain parts of Scotland, with some customers waiting as long as 35 extra days for delivery compared the rest of the UK.
Some 69% of retailers investigated by CAS did not offer delivery by Royal Mail, despite the Royal Mail's universal service obligation meaning that delivery by this method costs the same across the UK.
CAS also reported that some firms were placing Aberdeenshire, Moray, Argyll and Bute and Perthshire into the category of Highlands and Islands for charging purposes.
The Scottish government held a "parcel summit" last year to discuss ways of improving parcel delivery services in Scotland.
Enterprise Minister Fergus Ewing chaired the meeting in Inverness with delivery services and retail bosses.