Malcolm Mackay wins crime book prize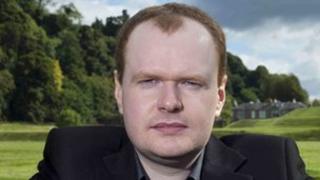 Author Malcolm Mackay has been named as the winner of this year's Deanston Scottish Crime Book of the Year for his novel How a Gunman Says Goodbye.
He collected a cheque for £1,000 at the awards ceremony in Stirling on Saturday evening.
The awards formed part of the Bloody Scotland international crime writing festival.
The winning book was the sequel to Mackay's highly praised debut The Necessary Death of Lewis Winter.
It was selected for the prize by a panel of critics including former Times editor Magnus Linklater and former Glasgow Lord Provost Liz Cameron.
Both of Mackay's books are part of a trilogy which plunges into Glasgow's dark, criminal underworld.
Mr Linklater, the chair of the judging panel, said: "Malcolm Mackay brings something new to the crime genre with this novel. This is no straight Glasgow gangland book, but a brave and involving psychological study of the cycle of life."
After receiving his award, Mackay, from Stornoway, said: "It's a huge and unexpected honour to win the Deanston Scottish Crime Book of the Year.
"At this stage of my career, I still feel like a kid being allowed to sit at the grown-ups' table when put beside talent like my fellow nominees, so just being nominated was a great thrill for me.
"The quality of the six shortlisted novels highlights the depth and variety of Scottish crime writing, and the Deanston Award and Bloody Scotland Festival show what a vibrant scene it is."
The literary award aims to provide Scottish crime writing with recognition and raise the profile and prestige of the genre as a whole.
To be considered for the award, authors had to be either born in Scotland, a permanent resident or work predominately in the country.
The five other titles shortlisted for the prize were Ann Cleeves, Dead Water; Gordon Ferris, Pilgrim Soul; Denise Mina, The Red Road; Val McDermid, The Vanishing Point; and Ian Rankin, Standing in Another Man's Grave.