Jack Vettriano: 'Critics don't take sex seriously'
A major exhibition devoted to the work of Scottish artist Jack Vettriano is opening in Glasgow. More than 100 paintings - many from private collections - have been gathered together for the show in Kelvingrove Art Gallery and Museum.
Jack Vettriano is one of the most popular and successful artists in the world and yet his work has been dismissed by critics as "badly conceived soft porn".
Paintings by the 61-year-old Fife artist sell for huge sums and he shifts prints and postcards in vast quantities, but he has been called the Jeffrey Archer of the art world.
A previous director of the Scottish National Gallery of Modern Art said Vettriano was "an indifferent painter" whose popularity rested on "cheap, commercial reproductions" and another Scottish art world figure said he "doesn't paint, he colours in".
So it is little wonder that Vettriano feels this retrospective exhibition is something of a vindication and hopes certain people in the art world will be "forced to eat their words".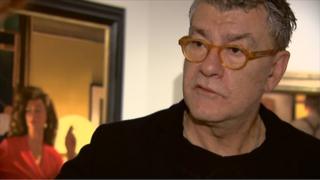 "Unfortunately some of the people in the Scottish establishment don't think I'm worthy of this," says the artist, who is completely self-taught.
But Vettriano says the fact that Kelvingrove is owned by Glasgow City Council and not by the National Galleries of Scotland appeals to him.
He is a big fan of the Glasgow gallery and says it is the place which convinced him to become a professional artist.
Vettriano says: "In the late 1980s I worked in Glasgow for two years and my boss was quite lax so I used to skive off to the Kelvingrove.
"It was around that time I started to have this crazy notion - and I did think it was crazy - that I could make a living out of painting.
"And here I am, back where I started."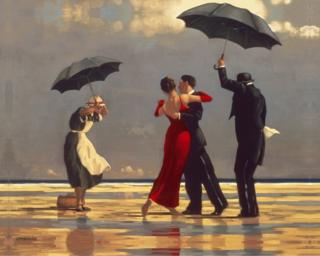 He says the Kelvingrove, which has previously had successful exhibitions of Kylie Minogue's outfits, Doctor Who memorabilia and a tribute to rock band AC/DC, "loves its public".
Vettriano, who grew up the mining town of Methil in Fife, proclaims a similar affection for the people of Scotland, saying they have underpinned his success throughout his career, "regardless of me moving to London".
The artist, whose Singing Butler (1992) is said to earn him hundreds of thousands of pounds in royalties from print, postcards and greetings cards each year, says he sees nothing wrong with being popular.
He says: "I am not somebody that buys into the notion that popularity means it is rubbish.
"If something is popular you had better believe it has something going for it."
So why does Vettriano think his paintings are not as well received by the critics, who have dismissed some of his erotically-charged material as "pornography"?
He says he likes to examine the "power of sex" and why it makes people lie and cheat and betray those to whom they are closest.
He says: "What I've suffered from and what I continue to suffer from is that critics don't take sex seriously.
"They think it's not real art. I will disagree to the day I die that it is serious."
He adds: "Even presidents do it. Bill Clinton lied very convincingly about it and got found out. That's the power of sex and I'll never deviate from examining that power."
Vettriano also dismisses accusations that he just paints "pretty pictures".
He says he has been "down some dark roads and met some dark people" in his life and he paints what he has been through.
However, he fully admits to "borrowing" ideas from elsewhere, something he defends by saying that this was also the view of Picasso.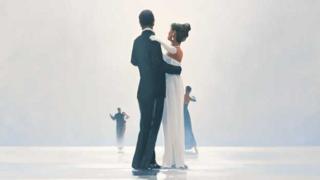 Another criticism of Vettriano is that he had a "lack of quality control" but he says that was because he was keen to get his work seen.
"If you had said to me 20 years ago, you are going to have a retrospective at Kelvingrove I would not have let half of that stuff out of the studio," he says.
"But I did because I thought 'this is my life, this is what I have chosen to do'."
He says he never kept much of a record of his work and did not even photograph much of it.
Many of the works in the retrospective, which are now housed in private collections, have not been seen by their artist for years and Vettriano admits that he when he sees an early work he sometimes feel the urge to "go back and finish it".
He says that many of his early paintings show "technical deficiencies".
"I was genuinely concerned about some of the early work because I thought people would look and think 'he can't paint'," he says.
"And they would be right, I couldn't paint.
"All I was doing was the best I could, that is what I find so charming about the retrospective."
But he says his ideas and his abilities have improved over the years and he wants to stop worrying about his early work.
"What is a retrospective if it's not a journey through 20 years or so of an artist's development?" he asks.
Jack Vettriano: A Retrospective is at the Kelvingrove Art Gallery and Museum in Glasgow until 23 February.