Great Tapestry of Scotland to return to Holyrood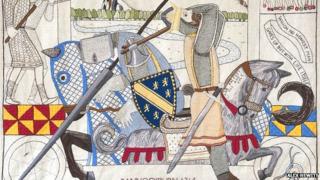 The Great Tapestry of Scotland is to return to the Scottish Parliament next year.
The world's longest embroidered tapestry has been seen by 30,000 people since it was launched at Holyrood less than three weeks ago.
On its last day on display, it has been announced it will return there next summer for an extended exhibition.
The 143m-long tapestry tells the "story of Scotland" across 160 intricate panels.
Each covers a different period of Scottish history, from the Battle of Bannockburn to the reconvening of the Scottish Parliament in 1999.
It took 1,000 volunteers more than 50,000 hours to complete the work, which is 70m longer than the famous Bayeux Tapestry in Normandy.
The charitable trust which looks after the tapestry said it would return to the parliament for display between July and September 2014.
Exact dates will be announced closer to the time.
Further tour dates are expected to be announced in the near future.