Additional funding to support new qualifications introduction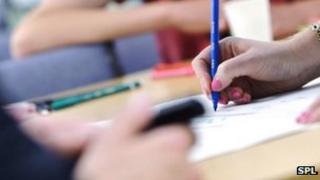 The Scottish government has announced an additional £1.4m for schools to support the introduction of new qualifications.
It said the move would ensure that from 2014 pupils would be able to access the most up-to-date books and materials.
There will also be online Higher courses in sciences, language and business subjects.
The government said it would provide a range of 21st century learning experiences.
Education Secretary Michael Russell explained: "2013-14 is an important year for our secondary schools, with the introduction of the new national qualifications.
"These are exciting times for pupils and teachers, and we are continuing to ensure they are fully supported as we take this vitally important step in Scottish education."
A poll released by the teaching union EIS in May 2013 found more than 80% of nursery and primary school teachers in Scotland were concerned about high workloads as a result of the new curriculum.
It also suggested half of teachers had little confidence in new assessments.
Union president Susan Quinn said teachers spent too much time "jumping through hoops of red-tape".
The Curriculum for Excellence (CfE) is the national curriculum for Scottish schools for students aged three to 18. It began to be phased in to schools in 2010.
Welcoming the latest announcement, EIS General Secretary Larry Flanagan said: "The introduction of the new qualifications inevitably made many existing school resources out of date, and teachers cannot rely on online materials alone to support the teaching of the new courses.
"Online resources are, of course, helpful but much of the learning and teaching in our schools is still based around printed materials and textbooks.
"The additional investment announced today will be valuable in allowing schools to update their resource materials, and it is encouraging that the Scottish Government has listened to the EIS and to teachers in our schools in providing this additional funding."