'Fishing for the Truth' website launched by Scottish Fishermen's Federation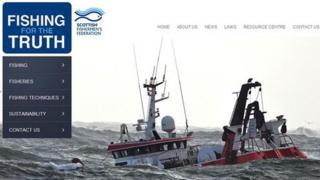 A new website aimed at offering a "true reflection" of commercial fishing in Scotland has been launched.
The Scottish Fishermen's Federation (SFF) said Fishing for the Truth was to "counter the inaccurate and negative portrayal" of the industry.
It focuses on areas such as stock levels and conservation measures.
SFF chief executive Bertie Armstrong said: "We hope that our new website will go some way in helping to set the record straight."
He explained: "Our hardworking fishermen have an incredibly difficult and often dangerous job in putting the seafood on our tables.
"Yet in recent years the industry has come under totally inaccurate and unwarranted criticism from doomsters and self-appointed armchair 'experts' about alleged overfishing, environmental impact and declining stocks.
"Our fishermen have pioneered a whole host of conservation measures over the last decade including real-time area closures to protect spawning stocks and technical alterations to nets that are dramatically reducing discards."