For Those In Peril shows Scottish films still buoyant
For Those In Peril is one of three Scottish films getting a cinematic release in the same week.
It is such a rare situation that the producers of the low-budget independent movie have decided their film, which will be in cinemas in the rest of UK on Friday, should wait a few weeks before being viewed in the country in which it is set.
For some odd reason, two other high-profile Scottish films are being released across the UK on 4 October.
Filth, an 18-certificate film version of Irvine Welsh's novel about a corrupt Edinburgh police officer, which stars James McAvoy, began screening in Scotland a week ahead of its official release to avoid a direct clash with Sunshine on Leith.
The considerably more feelgood film, which is also set in Edinburgh, uses Proclaimers songs to drive the plot and lists young actor George MacKay as one its stars.
Mackay also takes the lead role in For Those In Peril, in which he plays Aaron, a young misfit who is the lone survivor of a fishing tragedy.
In Scottish director Paul Wright's debut feature five young men from a small north east Scotland village are killed but for some inexplicable reason Aaron survives.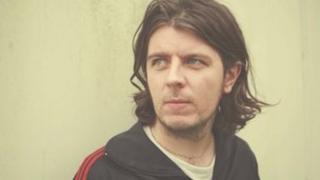 Wright says he never imagined when he was casting the role of a troubled young man from an Aberdeenshire fishing village he would end up giving the part to a public schoolboy from London.
However, the 32-year-old director says the whole film is based on the "incredible performance" from 21-year-old Mackay and they were very lucky to get him "while we could afford him".
Wright says they saw lots of talented Scottish actors but as soon as Mackay auditioned they knew he was something special.
The director says he worked closely with the young actor to create the character of Aaron, whose post-traumatic anguish and survivor's guilt means he struggles to come to terms with the death of his brother in the fishing tragedy.
Wright says of Mackay: "He gave 100% and we couldn't have done it without him. He was in practically every scene."
Mackay, who also stars in the new film How I Live Now, spends more time than could have been good for him up to his neck in the North Sea as Aaron continues his quest to find his brother.
Wright says: "It was us that had to tell George to stop rather than the other way around.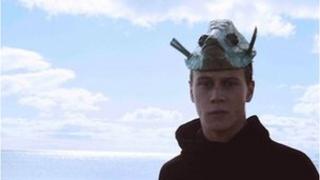 "He was wanting to go in again. Through mild hypothermia, he was saying 'I'll go again'. That's the kind of guy he is. He's such a talent."
The director, whose short film Until the River Runs Red won a Bafta in 2011, grew up in the East Neuk of Fife and says the script was written with his own home village in mind.
"When we came to the film, for whatever reason, Gourdon in Aberdeenshire felt more like the village I grew up in than the actual village I grew up in," he says.
Wright says during his childhood he heard lots of stories and myths about the ocean and these loom large in Aaron's story.
Accept death
In the film, the anguished youngster, brought up on local folk fables about sea monsters that eat people, struggles to deal with finality of death and desperately clings to the belief his brother could still be alive in the body of a devil in the deep.
Wright, whose own father died when he was 15, says the theme of coping with death keeps recurring in his work.
"It was not a starting place that I'm going to write a film about my past but it comes through in the film," he says.
"Not to self-analyse myself too much, I was of that age where I could not totally accept death.
"It was my first real experience with death and I was of that age when the mind does wander, thinking about what is and isn't possible. Not accepting death as the final thing."
The film is the last production under the Warp X banner, which was set up for new film directors to create movies on a lower budget, with less expectation for high box office revenues.
Its successes include Paddy Considine's Tyrannosaur, Ben Wheatley's Kill List and Berberian Sound Studio by Peter Strickland.
For Those In Peril has already been a critical success on the festival circuit, including at Cannes earlier this year.
Wright says: "Although it's a very Scottish film, it does have themes in it that hopefully do translate around the world.
"We aren't kidding ourselves that we have made a commercial blockbuster but it was always important that people who did connect with it, really connected with it."
For Those in Peril will be released in most of the UK on 4 October and in Scotland on 8 November.