Scottish summit to help protect children online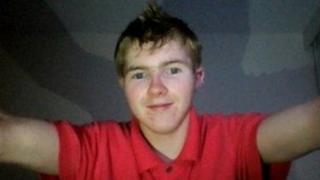 A summit is being planned to ensure children in Scotland receive the best possible protection when they are using the internet.
It will bring together Scottish government ministers and organisations with an interest in children's welfare.
The decision to hold the summit follows a series of cases where children and young people have been threatened or blackmailed online.
They included Daniel Perry from Dunfermline who took his own life.
The 17-year-old apprentice mechanic jumped off the Forth Bridge after blackmailers demanded thousands of pounds after tricking him into thinking he was chatting with a girl in the US.
Fast-changing risks
Although some aspects of internet safety are not devolved, the Scottish government believes it can still help by trying to ensure child internet safety is properly recognised in education, policing and child protection policies.
It could also help to provide support to anyone who has been targeted.
Children's Minister Aileen Campbell is expected to announce more details at the National Parent Forum of Scotland's conference at the weekend.
Ms Campbell said: "Over recent weeks and months we've seen too many reports of young people's lives being damaged or ending tragically after been targeted on chat and social networking sites.
"That is why I am arranging a summit to invite experts, including those who work directly with young people, to see what more we can do in Scotland to protect our children as well as inform worried parents.
"The national anti-bullying service Respectme offers excellent support and advice to both parents and young people, we can build on this by looking at what more can be done and how we can share the wide-reaching expertise at our disposal."
'Constructive habits'
Iain Ellis, chairman of the National Parent Forum of Scotland, said: "The National Parent Forum of Scotland welcomes the Scottish government focus on internet safety, as we know this is something that really concerns parents.
"While schools sometimes do run internet safety information evenings for parents, we would really benefit from receiving clear, consistent and regularly-updated information, as the possibilities and risks of the internet are fast-changing.
"Using the internet in positive ways is a crucial part of everyday life; it is important that our children develop healthy, constructive internet habits and that they learn to keep themselves safe. Parents need to know how to help them with this."