Alcohol cravings drug nalmefene granted approval in Scotland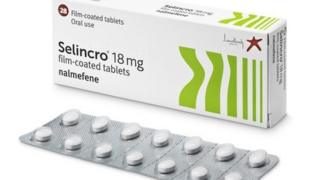 Scotland has become the first country in Europe to prescribe a new drug which reduces cravings for alcohol.
Nalmefene has been given the go-ahead by the Scottish Medicines Consortium (SMC), which approves drugs for use on the NHS.
It is designed for people who are heavy drinkers but not the most severely-dependent alcoholics.
The SMC said it should only be prescribed alongside psychological support.
In trials, men who normally drank eight units of alcohol a day and women who drank six a day reduced their consumption by half over a six-month period when they took nalmefene.
It comes in the form of a pill which is designed to be taken before drinking, not necessarily every day. Nalmefene costs £3 per tablet.
It reduces the release of dopamine in the brain, lessening the "buzz" or reward sensation associated with alcohol.
Prof Jonathan Chick, consultant psychiatrist at Queen Margaret University Hospital Edinburgh, said: "I am pleased that Scottish patients will have access to nalmefene, which represents a new option for treating some people with alcohol dependence by helping them to cut down their drinking when they may not be ready, or have no medical need, to give up alcohol altogether.
"This may help us to engage the many alcohol-dependent patients that we know are not currently receiving help."
Risk levels
Scotland has the highest alcohol-related death rate in the UK. The rates in Scottish men are double that of the rest of the UK.
The SMC said nalmefene was licensed for the reduction of alcohol consumption "in adult patients with alcohol dependence without physical withdrawal symptoms and who do not require immediate detoxification".
The World Health Organization (WHO) classifies drinking risk levels (DRLs) into low, medium, high and very high, where high risk equates to about seven and a half units of alcohol per day for men and five units per day for women.
The consortium said: "Nalmefene should only be prescribed in conjunction with continuous psychosocial support focused on treatment adherence and reducing alcohol consumption.
"Nalmefene should be initiated only in patients who continue to have a high DRL two weeks after initial assessment."
Prof Chick added: "The range of people who put themselves at risk through their drinking is quite wide. Some have not met social problems and are functioning well until they develop an alcohol-related physical illness such as high blood pressure, cancer or liver disease; while others lose their social supports and then tend to fit the stereotype of the 'alcoholic'.
"Reducing alcohol consumption can prevent these social and physical damages developing, but the changes in the brain of the dependent drinker may make that difficult and help is needed."