Scottish Refugee Council calls for regional asylum screening centres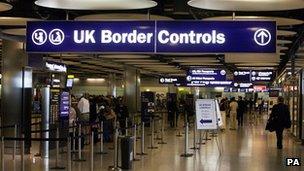 A refugee charity has called for regional screening centres to be set up to process applications from asylum seekers.
Almost everyone seeking asylum in the UK currently has to travel to Croydon, in south London, to submit their application.
The Scottish Refugee Council said many refugees could not afford to travel.
A Home Office spokesman said the majority of applicants were located close to Croydon.
In their report, MPs said they heard evidence from Debora Singer of the Asylum Aid charity, who described how a pregnant asylum seeker based in Scotland was required to travel overnight to Croydon for a morning appointment, despite the protestations of the Scottish Refugee Council (SRC).
The woman went into labour on the steps of the asylum screening unit.
Nina Murray, a women's policy officer with SRC, said the report was a "significant and powerful critique of a system that is really failing quite a lot of people, and particularly the most vulnerable people".
She pointed out that, under very exceptional circumstances, the most vulnerable asylum seekers were able to be screened in regional centres, but said it was becoming "increasingly difficult" to prove people were genuinely unable to travel to Croydon.
Ms Murray told BBC radio's Good Morning Scotland programme: "Many people arrive having spent their last penny trying to get out of a difficult situation and don't have any money - they may be destitute.
"Quite a lot of people do fetch up in Scotland. We're not quite sure how and why but there are issues around trafficking, around smuggling, people do come off the backs of lorries and turn up on our doorstep.
"But also people may be living legally in the country and the situation changes, for example Syrians who may have been studying in Scotland and are now unable to return home."
She added: "We already have a Home Office office in Brand Street in Govan here in Glasgow. That is mainly a reporting centre for people to report to, and they also carry out some asylum interviews there, but at the moment people are told that to lodge an application they have to travel all the way to Croydon.
"We don't think it would be a huge ask for everybody to be screened here in Scotland. Other countries of a comparable size do have various regional screening centres and we know that this is an issue for other parts of the UK, such as Liverpool or Wales, that are also quite far from Croydon."
Ms Murray said it was currently charities such as SRC and the Edinburgh-based Refugee Survival Trust who were paying for bus tickets to allow people to get to Croydon.
She added: "We don't see that as sustainable".
Among the other issues raised by the Home Affairs Committee were complaints about the length of time it took to get interviews at the Asylum Screening Unit in Croydon, with one legal representative making more than 200 phone calls in a month without being able to book any appointments.
A further criticism was that, unlike the regional offices, the unit does not offer childcare.
This means that children are present when parents are making their claim to the screening officer, which the committee said could inhibit disclosure as many parents would not discuss acts of sexual violence or torture in front of their children.
The report added: "Despite the fact that childcare is offered at the regional offices, the letters inviting applicants for interview still state that childcare is not available and that they should not bring their children with them.
"This has been repeatedly raised with the Home Office over the past two years but the standard invitation letter has not been amended."
The committee recommended that the Home Office amend its guidance to ensure that any applicant who is disabled or pregnant is offered a screening appointment at a regional centre.
In cases where the applicant is the primary carer of a child under the age of 16, childcare should be made available to those who need it for their interviews, and this should be made clear in the invitation letters, it added.
A Home Office spokesman said: "Asylum seekers are expected to claim asylum as soon as they arrive in the UK, at the airport or seaport of entry.
"For those who do not claim asylum on arrival, or whose circumstances change while in the UK, asylum applications can be registered at the Asylum Screening Unit in Croydon.
"This location, ten miles south of central London, is based on where the majority of applicants are located."
Related Internet Links
The BBC is not responsible for the content of external sites.