James Naughtie joins BBC's Good Morning Scotland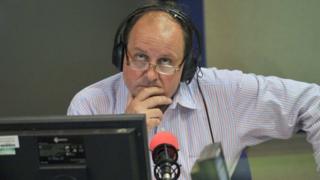 James Naughtie is to present Good Morning Scotland for the first time on Thursday.
He is joining the team on BBC Radio Scotland's breakfast programme during the independence referendum campaign.
Mr Naughtie will continue to work on Radio 4's Today programme while also presenting Good Morning Scotland on two days each week.
The BBC has said he will have "an enhanced role" in the BBC's independence referendum team.
When Mr Naughtie's new role was announced, BBC Scotland director Ken MacQuarrie said: "The referendum story is of huge significance for BBC Scotland and I'm delighted James will be contributing to our coverage of it as part of the Good Morning Scotland presenting team."
Mr Naughtie said: "The constitutional debate and the decision next year have great historic importance for Scotland and the whole of the UK, so I am excited to be in the thick of it, on both sides of the border, from start to finish.
"The opportunity to spend more time working in Scotland in referendum year is something that I am looking forward to immensely.
"This is one of the great stories of our time and I'm delighted to be so involved in it."
After the referendum, Mr Naughtie is to resume presenting the Today programme full time during the run-up to the 2015 General Election.