The politics of job cuts at BAE Systems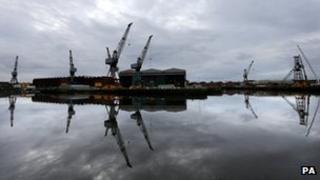 For a moment, but only that, the honourable member for Perth and North Perthshire looked mildly discomfited. That moment was when several fellow MPs laughed at his intervention.
Now the said honourable member, Pete Wishart, is a former rock star and thus more accustomed to adulation than cachinnation.
So just what had provoked this outburst? It was when he said that the issue of shipyard jobs was so serious that MPs should not "play politics" with it.
In Glasgow and Portsmouth, they're not laughing. These cities face the bulk of 1,775 jobs losses as BAE adapts to the new structure of naval orders.
But, to be entirely clear, the laughter in the Commons was of the bitter, ironic nature. The exchanges were deeply, deeply serious.
Those MPs who laughed at Mr Wishart's remarks were responding, dismissively, to the notion that politics can be kept absent or had played no part in these decisions. To be fair to Mr Wishart, his objective was to urge MPs to focus upon employment.
So what role did politics play - and, more precisely, the forthcoming referendum on independence? It would be infantile to suggest that the referendum had no impact. UK government sources have stressed that they were acutely conscious of that impending choice.
'BAE's decision'
So was this a sweetener to Scotland, to stave off a Yes vote? The Defence Secretary Philip Hammond was asked repeatedly in the Commons to say whether the Scottish poll had influenced his choice.
He made, broadly, three replies to the variety of ways in which he was posed that question. Firstly, he stressed that the decision to locate warship building solely in Glasgow was taken by BAE, with endorsement from the Ministry of Defence. It was, thereby, primarily an industrial rather than a political choice.
Secondly, he stressed the importance of cost. His entire statement was predicated upon the drive to contain rising costs in the aircraft carrier contract. The identification of a sole location was also, he suggested, driven by cost efficiency.
But, thirdly, he made a point with regard to the forthcoming orders for Type 26 ships. Mr Hammond's core point in respect of the carriers was that a blunder had been made (by the predecessor government) in placing the contracts for these vessels before design was completed.
He would not repeat that error, he said, with the Type 26 contract. It would not be placed before design was "mature". That would be at the end of 2014. He noted, twice, that would be after the Scottish referendum in September of that year.
Diplomatic response
Mr Hammond did not go further. Any speculation on the point was, he said, "premature". He did not thus issue any form of blunt threat that the work would be taken away from the Clyde yards if Scotland voted for independence. For listening MPs, he did not have to do so.
They heard - and recognised - an implicit argument to be deployed in the referendum campaign by those advocating the Union. Mr Hammond may have been cautious and diplomatic in his response to a sensitive topic on a difficult day. Others will not hold back.
When I interviewed her, Scotland's Deputy First Minister Nicola Sturgeon dismissed the notion that the Type 26 orders could be removed from the Clyde as "preposterous". She further dismissed the suggestion that Scotland had been given a bribe to stay in the Union.
Her argument is that the business case for the Clyde, with its expertise, readiness and investment, was overwhelming - and would remain so. Instead of fretting about further threats, she urged Scotland to diversify its shipbuilding portfolio on Norwegian lines.
Other Scottish government sources say that warship building was always destined for Glasgow, rather than Portsmouth. By that argument, the choice was not Scotland versus England - but Govan versus Scotstoun.
Again pursuing that argument, it is said that there was an advanced case in place to close Govan and focus upon the other Clydeside yard. According to that logic, the sweetener - if there was one - was to retain Govan alongside Scotstoun.