New Year's Day in Scotland brings heavy rain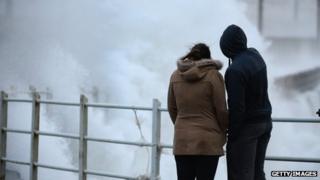 A further spell of wet weather has been affecting parts of Scotland on New Year's Day.
The Met Office yellow warning said rain will be persistent and heavy for a time.
The Scottish Environment Protection Agency (Sepa) has issued more than 12 flood warnings.
The Scottish government said its Resilience Room has been in operation since before Christmas and was ready to deal with any further problems.
The Met Office warning, which applies from 09:00 until midnight on 1 January, said: "With further heavy rain falling on already saturated ground, the public should be aware of the potential for localised flooding."
Environment and Climate Minister Paul Wheelhouse said: "The recent bad weather has caused some of the worst flooding ever recorded in parts of Dumfries and Galloway, Ayrshire and the Scottish Borders and I'd like to pay tribute to all those involved in supporting communities affected in locations there and elsewhere around Scotland.
"The councils, local fire and rescue services, other emergency services and utility companies have reacted very swiftly to minimise the impact of rising water levels and establish welfare centres for affected communities."
The Scottish government has activated the Bellwin scheme, which provides financial assistance to local authorities dealing with exceptional events.
Mr Wheelhouse added: "It is worth bearing in mind that saturated ground conditions mean that river catchments are unusually sensitive to the kinds of rainfall events we have experienced in recent days, so individuals need to be vigilant over the coming days when alerts are in force."