Scottish independence: What can Scots learn about life on the Irish border?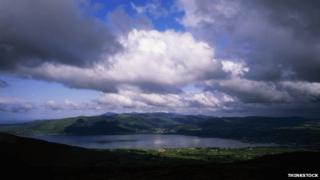 The people of Scotland will soon decide on their country's future. If they say "Yes" to independence, what might happen to the border between Scotland and England?
In the first of a two part series the BBC's Louise Sayers examines what life is like along the Irish border and what lessons Scots might learn.

If the people of Scotland vote for independence, what might the relationship with the remaining nations of the United Kingdom be like?
Chancellor George Osborne says an independent Scotland would be a "foreign country", but Scotland's First Minister Alex Salmond argues that for Scots, the UK would never be considered foreign.
The "Yes" campaign has repeatedly said it would like to emulate the kind of relationship Ireland has with the UK - a separate country with separate administrations, but open to a joined-up approach, when it makes sense.
The Republic of Ireland is the only country to share a land border with the UK.
But exactly how does Ireland's co-operation with the Northern Ireland and the rest of the United Kingdom work, and how did it come about?
Ruth Tallion, director of the Centre for Cross Border Studies, says: "We're a very small island, so in a lot of ways it just doesn't make sense to do things twice.
"A lot of resources could be much better used, and much more effectively used if things are done on an all-island or cross-border basis."
In the area of policing, the Police Service of Northern Ireland (PSNI) and the An Garda Síochána (Garda) - Ireland's National Police Service - work together.
They share a radio network and have established the Organised Crime Task Force to investigate such things as bank robberies, fuel laundering, and dissident republican activity.
But Northern Ireland's Justice Minister David Ford cautioned that joined-up thinking does not come easy.
He said: "It's literally only in recent months that we've managed to join up radio systems, and in some areas across the border that still isn't completely joined up yet.
"It has taken a lot of time and effort, plus two different sets of procurement arrangements, and a lot of working together so as we can try and get a system that works."
In 2010 the Driver and Vehicle Licensing Agency (DVLA) and Department of Transport in Dublin agreed to share details of drivers avoiding unpaid parking fines or road charges.
However, the Justice Department's attempts to introduce a similar system to recognise disqualification and penalty points cross-border has not been as successful.
Mr Ford explained: "When the Northern Ireland assembly first got powers in 1999 we were discussing mutual recognition for driving offences cross border, and we still haven't satisfactorily resolved the issue."
He added: "Fundamentally, police warrants stop at the border and there is no way in which that can be dealt with."
In other areas of life, the fire and ambulances service are not constrained by borders and will respond to calls on both sides.
In the health sector, a new radiotherapy unit is being built in Derry/Londonderry to serve patients in the north and in the south.
So, for people in Donegal this means a much shorter journey than having to travel for many hours to Dublin for treatment.
When it comes to business, competition plays a big part in the relationship between Northern Ireland and the Republic of Ireland.
For the south, its lower rate of corporation tax and the recent abolition of air travel tax has put it in a commanding position.
However, the north's shops and supermarkets have strong customer pull, prompting the Irish Finance Minister Brian Lenihan to make a "patriotic shopping" appeal. He urged the Irish to stop crossing the border and effectively "paying Her Majesty's taxes".
One area taking no notice of borders is the environment - it's the same air and the same rain.
However, you can manage environmental issues and that's why the UK and Irish governments have set up jointly funded bodies such as Waterways Ireland and the Loughs Agency.
Water border
Norman Simmons, a former senior civil servant at the Department for the Environment, explained: "What happened in Lough Foyle and Carlingford Lough was that the border just went down the middle and no one really gave much thought to it.
"There are fisheries on one side and fisheries on the other side and so the only way that you were going to make that work is if the UK government and the south [Republic of Ireland] passed identical legislation and have exactly the same enforcement powers."
When it comes to cross-border working you have to be up on the rules, from what medical and maternity treatment you receive, to the family and welfare benefits you're entitled to.
So, for example, if you become unemployed your benefit will be paid by the country where you last worked, but you can take part in back-to-work employment training schemes in either country.
Spot the difference
Different style number plates are one visible sign of cross-border visitors on the island of Ireland. Letters, followed by numbers on a yellow background is on a typical Northern Ireland plate, while county letters and the IRL logo are typical on a car registered in the south.
The big things in life - such as health and education - are subject to cross-border politics.
In 2012/13, more than 400 children from the Republic attended schools in Northern Ireland, with 63 travelling into the Republic.
Northern Ireland Education Minister John O'Dowd has suggested it should be made easier to go to school on whatever side the border is most convenient, saying: "People quite rightly want to be able to educate their children in the nearest school."
On the matter of GP services, the Northern Ireland Department of Health has been suffering a financial headache due to false medical registrations.
The fraud, of up to £100m a year, is happening because a visit to your local surgery in the north is free, while you face a charge in the south.
But it's also the small things in life that face the cross-border rule - such as the cost of postage.
Northern Ireland customers sending a standard letter within the UK will typically pay 62p - but posting something across the border on the same land mass could be considerably more.
Contrast that with the Republic's An Post operator which has an all-Ireland rate, but charges to the UK mainland come in at the full EU interstate rate.
Life today on the island of Ireland is a far cry from decades of conflict and manned border crossings.
Bill Gordon was born in Dublin but moved to Northern Ireland as a child in the late 1940s. He remembers well what life was like along the border with Donegal.
Everyday life
He recalls: "Crossing the bridge in Lifford was a very real feeling of going into another state, and people like ourselves who came from the Irish Republic had to have a permit to work in Northern Ireland.
"People who came across the border to buy things all had to go through customs examinations as well.
"Life back then, you had the border very much in your mind, and it was a very physical thing on the roads."
The Irish border in 2014 is defined by a road sign in kilometres switching to one in miles; a post box going from green to red or a mobile jumping from one phone provider to another - and to many thousands of people across the island of Ireland that is part of everyday life.