Census data reveal young 'most likely' to feel Scottish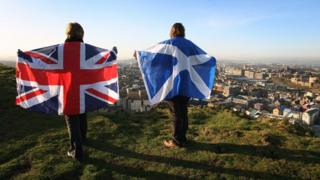 Young people are most likely to regard themselves as "Scottish" only, details revealed by the 2011 Census have shown.
The data published by the National Records of Scotland (NRS) show while 62% of the total population consider themselves "Scottish", the proportion rose to 71% among those aged 10-14.
It fell to just 57% of those in their early 30s.
The figures also showed half of those with a Pakistani background felt they had a Scottish identity.
The latest publication of census findings has been seized upon by the Scottish government as evidence the country is a welcoming and dynamic nation.
"Scotland is a culturally, religious and ethnically diverse place - and these pictures paint a fascinating portrait of Scotland today, telling us more about the people who make up our Scottish nation," said Culture Secretary Fiona Hyslop.
"It is especially welcome that those proud to claim a Scottish identity include those who have chosen Scotland as their home and the census reflects a strong Scottish identity across all ethnic groups."
She added: "What unites us is our very strong sense of Scottish identity, with 83% feeling either solely Scottish or Scottish and something else, compared to, for example, 70% of people in England feeling English."
Overall figures for identity, ethnicity, religion and language have previously been published.
The latest data set adds details, breaking down the figures by age groups and sex.
Among the key points are:
62% of the total population stated their identity was "Scottish only". It varied from 71% per cent for 10 to 14-year-olds to 57% per cent for 30 to 34-year-olds.
34% of all minority ethnic groups felt they had some Scottish identity either on its own or in combination with another identity.
60% per cent of people from a mixed background and 50% per cent for those from a Pakistani ethnic group, felt they had a Scottish identity.
For most people, the most common answer to the religion question was "no religion". However "Church of Scotland" (44%) was the most common answer for "Scottish and British identities only", whilst "Muslim" was most common for "Asian" and "Other ethnic groups".
55 to 74-year olds were most likely to have some skills in the Scots language, with 43% per cent stating they could do one or a combination of read, write, speak or understand it.
The government said the details released by NRS will be used to help them plan for the future and keep pace with the changing demographics of Scotland.