Insane fight club: Reinventing wrestling for a new generation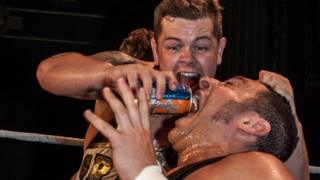 Insane Championship Wrestling has blood, violence, bad language and a rapidly growing popularity but it all began as a way out of tough times for its founder.
Wrestling has always been a pretty crazy pursuit but a group of Glasgow-based friends have branded their version insane.
It is darker than most wrestling shows and indulges in activities that others shy away from, either through safety concerns or because they are trying to cater for a family audience.
For Mark Dallas, the man behind the insane subculture, it is "theatre for the new generation". It is, he says, theatre where people get beaten to a pulp.
"It's a drama, it's a comedy, it's a soap opera, it's a performance art, it's a stunt show," says 29-year-old Dallas.
His dream is to take an idea that began playing to dozens of people in a community hall in Maryhill and make his motley crew of committed obsessives into professional wrestlers.
For Mark Dallas the obsession with wrestling began at a young age.
He says pro-wrestling seemed like watching real-life superheroes on his TV beating each other up.
In his early 20s Mark and his pregnant partner Helen found themselves in temporary accommodation in Glasgow's notorious Red Road flats.
"It was full of junkies and everyone just thrown in, the dregs of society and me and my missus," Mark says.
"I was sitting there depressed thinking 'my child is not going to be brought up here'."
He hit on the idea of putting on a wrestling show.
The first attempt only attracted 80 people but the audience loved it, he says.
"The next show was sold out and they had to bring more chairs in and then the next show we had to turn people away."
Mark secured a regular slot at The Garage nightclub on Glasgow's Sauchiehall Street and his insane fight club gathered a reputation for literally stopping the traffic as the bouts spilled out on to the street.
The new venue was bigger but Mark was still barely breaking-even every month and none of his wrestlers were making enough for a full-time living.
He says: "My dream is to have it that if you work for ICW it is your full-time job. You are a professional wrestler. You are somebody who makes a full-time living from professional wrestling.
"Then we can all get old and say we were wrestlers. We were in the wrestling business."
So Mark took a gamble and booked the 1,300 capacity ABC venue in Glasgow. The BBC documentary Insane Fight Club follows him as he tries to drum up business and make his dream a reality.
One of the wrestlers in Mark's stable is fan favourite Grado, from Stevenston on the North Ayrshire coast.
Over the past two years, Grado's videos have gathered momentum online. These videos have transformed him from the ultimate fan to one of the most popular wrestlers in ICW.
Grado says: "I'm the chubby wee underdog, the chubby wee chancer. I'm about as fit as my gran but I love the wrestling."
At the other end of the scale is one of ICW's hardcore heavyweights, Jack Jester.
Jester says: "When I was at school I wanted to be a tattoo artist, a wrestler or a clown and I have managed to do all three.
"I do think you should be yourself. Don't ever go with the flow of what everybody else is doing."
Jester started wrestling at 16 and although his parents never tried to stop him, his father always refused to watch his son get beaten up for a living.
He says: "My mum comes to most shows. She came to her first ICW show on her birthday. About six minutes in I regretted asking her to come. That's when I was hanging over the balcony."
For Mark Dallas and his writing partner Renfrew a successful wrestling match needs a good story line.
He says: "We base the shows on basic human emotions. Things that every single person in the world can relate to. Hate, love, anger, joy."
The story lines are the stuff of soap opera but the pain is very definitely real.
Mark says: "Whenever someone finds out you are involved in wrestling the first thing they say is, is it fake?
"I say 'define fake'. My mate getting hit by a steel chair is not fake. The boy is getting really hurt. That's not fake."
He adds: "People don't understand what wrestlers do for their entertainment and, if they did, maybe they would understand why I want these people to make money."
Insane Fight Club is on BBC One at 22:35 on Tuesday 11 March.