Gerry Rafferty's musical past brought home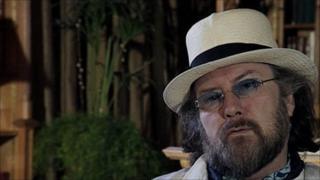 A collection of songwriter Gerry Rafferty's personal memorabilia - everything from album artwork and gold discs to hand-written lyrics - is to go on display at Paisley museum.
Gerry Rafferty's daughter Martha has been looking through a lot of boxes.
As a precursor to the second Bring It All Home festival, which celebrates her father's legacy, an exhibition of personal artefacts - everything from guitars to handwritten song lyrics - is being held in his home town, Paisley.
"It's mainly composed of things I've had in boxes for a number of years so it's been a cathartic process digging them out," she says.
"There's a lot of personal memorabilia, a lot of the awards that my father accumulated over the years and stored in a prestigious bathroom cupboard so getting them out of storage was interesting."
The singer, who died in 2011 after a long illness, achieved international success with solo hits like Baker Street and Right Down the Line, as well writing and performing on Stealer's Wheel's famous track Stuck in the Middle with You.
His family were keen that his songwriting legacy was celebrated in his home town so set up the first festival last year.
This year, they've expanded the number of events, and wanted to include some of his most personal possessions.
"Some of the more personal things are his collections of lyric books," says Martha.
"He'd always buy a brand new A4 pad or jotter before he started a new album. My mother kept them over the years and I inherited them so I think fans will enjoy seeing them."
Paisley, she says, was also important to her father. But what would he have made of his personal things being displayed in the local museum?
"I don't think back then he would have projected that into the future," says Martha.
"I think he would have been very honoured to have been recognised in this way in his home town. I remember him telling me about Paisley Museum when I was very small and going to see the big stuffed lion in the main hall there. He wouldn't have imagined it but he would have been very honoured."
The main music festival, which begins on 11 April, is a series of events including songwriting workshops and concerts.
One in particular will be poignant.
The Rafferty family - including Martha - will join friends, Rab Noakes, Barbara Dickson and Eddi Reader for a tribute concert on 16 April, which would have been Gerry Rafferty's 67th birthday.
Music, she says, remains his legacy.
"Very much so. That was what he was about - music and songwriting. So it's wonderful to bring them all together in his home town."
Bring It All Home - The Exhibition is at the Paisley Museum from 7 March to 18 May.