Scottish independence: business weighs in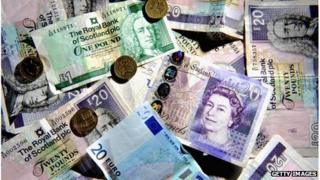 Is Scotland's currency dispute going to be resolved by politics or by economics?
Two of the Scottish government's economic advisers were at Holyrood on Wednesday saying it'll be economics.
Joint control of the pound and the Bank of England makes sense for Scotland and the rest of the UK, they argued. They agreed with SNP ministers' claims that the three main Westminster parties are merely playing politics - George Osborne's "not being serious" - and will see sense when confronted with a Yes vote.
Prof Andrew Hughes-Hallett, one of the advisers, observed that politics always has to yield to economic pressures. He offered up the example of the Soviet Union, though conceded that it did take rather a long time for the Kremlin's command economy experiment to collapse.
The SNP government has to hope that its opponents capitulate within weeks of a Yes vote rather than taking 72 years. Even if the professor is right (eventually), politics can still have a big say in the deals that are struck, and those that aren't. It's not to be under-estimated.
Nothing to gain
And Scotland wouldn't have the luxury of much time to settle the matter. Business has clearly been alarmed by the uncertainty created by the entrenched disagreement over currency and monetary controls in an independent Scotland.
I was predicting very few weeks ago that big business would keep quiet about independence, calculating that it had nothing to gain from being involved. It would leave it to organisations such as the CBI to express its scepticism. I got that wrong.
The Yes campaign has the enthusiastic support of people in small business (a significant chunk of SNP activists included) and a range of entrepreneurs besides.
Others have been neutral. GKN, the engineering company, is among them, as is the boss of Scottish Power's parent company in Spain.
At British Airways and Ryanair, the chief executives told the BBC last week they are comfortable with any constitutional arrangement that removes Air Passenger Duty, as the SNP plans to do.
Stability and continuity
But the list is rather longer of big businesses raising concerns. As I've noted before, some are responding to their shareholders questions, or because they judge that accounting rules require them to do so.
Last week's statement from Standard Life - telling shareholders that it is preparing to move at least some operations out of Scotland if necessary - was particularly damaging to the independence cause.
The pensions and investment giant is the best example of a highly-regulated company, its products sensitive to the tax regime, with its employment footprint in Scotland but its customers overwhelmingly south of the border.
Royal Bank of Scotland raised concerns on the same day. It didn't have to spell out the possibility of moving its headquarters south, because the powerful roles have already gone. Barclays and Lloyds Banking Group are speaking up too, the latter briefly stating that independence could increase costs of compliance with regulation, of funding from the money markets, and in its tax bills.
The Yes campaign's response to the Standard Life statement was that more certainty over the currency would provide the stability and predictability such companies seek, blaming the UK government for leaving things so unclear.
And so it goes with the oil industry, which was given every reassurance possible by the Scottish government, also saying it would prefer a No vote.
Shell's boss, Ben van Beurden, says his company's investment will go on. There's no hint of a threat there, or that this uncertainty is harming growth. The Dutch/British oil major would simply prefer to see Scotland stay British. "Continuity, stability, partnership" are things Shell values, he says.
Euro-vote
So why are businesses speaking up now? Partly, it's because this is a busy time of year for reporting financial results, and publication of annual reports, which require those risk registers to be made public.
But there's another factor. Several of the concerns raised about Scottish independence are within the context of greater concerns that UK voters could take the opportunity of a referendum to pull out from the European Union.
Three years out from that possible date with constitutional destiny, business is serving notice that it would make its presence felt in that fight. And it may be wary that this May's European Parliament elections could built the momentum towards a referendum on the issue.
Bank balances
Finally, a note on those banks, and the prospect of RBS and Lloyds removing at least their brass plates from Edinburgh, due to an interpretation of European law.
That would clarify one uncertainty about the liability of an independent Scotland for the risks carried by operations outside the country, notably those in the risky, London-based investment banks.
As Standard & Poor's pointed out last week, "re-domiciling" the banks amid their dominant English market might be a welcome move because it would reduce Scotland's sovereign risk profile, and cut its borrowing costs.
While bigging up so much about Scotland, the Holyrood government has been unusually keen to stress how small the country's financial sector is.
The Treasury calculates that Scotland would have £1.9 trillion of bank assets - quarter of the UK total - posing a threat to Scotland post-independence.
But the Scottish government points out a different measure of financial services output shows London accounting for nearly half of the financial sector's added value. It's claimed the economic footprint of financial services in Scotland, at 8% of its onshore output, is close to the UK figure.
And if it's risk that's being measured, that is heavily focussed on those investment banking divisions, including the shrinking RBS one, which are based in London. Under planned bank reforms, that should be ring-fenced within banks to protect utility banking for retail and business customers. The SNP would like the ring-fence also to be a geographical one.
If it does, and drawing from the 2012 accounts, the UK government can take on the sovereign risk that comes with £775bn of London-based RBS assets.
That's more than three quarters of a trillion quid - just another one of those negotiations to be carried out, we're told, between friendly neighbours.