Campaign to track numbers of threatened juniper plants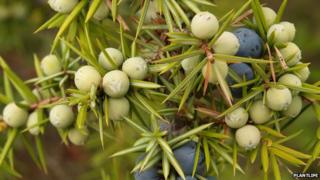 Walkers in the Scottish countryside are being urged to record sightings of juniper bushes which may be affected by a deadly fungal disease.
Charity Plantlife Scotland wants walkers to complete a survey form every time they see juniper.
The group said this would help track juniper numbers and the spread of the disease, which is affecting berries.
The plant has been lost in many parts of the UK and campaigners are deeply concerned about its future.
'Dramatic decline'
Recent findings show that juniper, used to give gin its distinctive flavour and taste, is under a real threat of extinction across Scotland.
Figures suggest that the plant has been lost from a quarter of areas where it was previously found across the UK due a fungal disease (Phytophthora austrocedrae).
The dramatic decline is also compounded by ageing bushes, many more than 100 years old, not producing enough new seeds.
As well as this, Plantlife said unsuitable grazing regimes prevent germination while rabbit and vole populations eat juvenile plants.
The organisation's Deborah Long said: "Juniper, with its blueish green needles and green or black berries, is easy to identify.
"We are asking people to help us from now until September to complete a survey form every time they see juniper in Scotland.
"If you are planning to go out walking then this is the ideal opportunity for you to take part.
"We are especially interested in any orange or brown bushes, which could indicate infection."
She added: "If such symptoms are seen people should document this on their survey form but ensure they either keep out of the area altogether or, if that is not possible, keep well away from such bushes."
'Vital component'
The plant's falling numbers have also been highlighted to Holyrood MSPs.
Last year as part of an initiative to protect threatened species in Scotland, MSPs offered their political support by becoming Species Champions.
Murdo Fraser is the Species Champions for juniper and hopes people will help Plantlife protect juniper by carrying out the survey.
Mr Fraser said: "As a vital component of the biodiversity of Scotland's native woodlands it is important that we continue with our current efforts to ensure its survival."
The survey form which volunteers can use to help track juniper berry numbers across Scotland is available to download from Plantlife Scotland's website.