Call for inquiry into Dounreay submarine reactor fault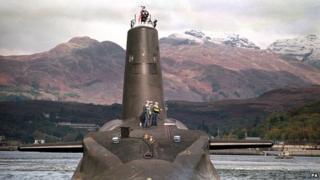 Labour has called for an inquiry into the disclosure of a radioactive fault found at a nuclear submarine reactor test site in the Scottish Highlands.
The defence secretary told the Commons on Thursday that radioactivity was found in the reactor's cooling waters at the start of 2012.
Questions have been raised about how long it has taken to reveal details of the problems at Dounreay in Caithness.
Labour now want a parliamentary inquiry into what went on.
'No leak'
Defence Secretary Philip Hammond told MPs last week that low levels of radioactivity had been discovered in the cooling waters of the Dounreay test reactor.
He said no leak had occurred and there were no safety implications, but that the HMS Vanguard submarine will be refuelled with a new nuclear core at a cost of £120m.
The Ministry of Defence said the Scottish Environment Protection Agency (Sepa) and the defence nuclear inspectorate were kept informed.
However, the Scottish government was not made aware until shortly before Mr Hammond's statement, a situation it said was unacceptable.
In a letter to James Arbuthnot, chairman of the defence select committee, Labour's Shadow Scottish Secretary Margaret Curran and Shadow Defence Secretary Vernon Coaker said a parliamentary inquiry was now needed to shed light on the sequence of events.
The letter says: "Significant questions were raised in the House regarding the two year delay in informing MPs, and the public, about this incident.
"It is critical that the public, particularly those who live close to facilities in Dounreay, have complete confidence in the safety regime that is in place."
The MPs warn that confidence has been damaged by the delay in revealing details of the fault.
They want clarity on:
Why Sepa were informed but not the Scottish Parliament
There was a nine month delay in informing Sepa
The operation of protocols between the MoD and the Scottish government.
The Scottish government has said the MoD requested that Sepa not make the information more widely known for security reasons, but the MoD has indicated this was not the case.