My 48 hours as an air pollution guinea pig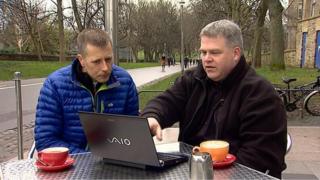 Over a period of 48 hours I wore a personal air pollution monitor as I travelled by foot, by bike, by bus, by car, by train and by taxi.
I am a regular cyclist, I walk a fair bit and my job means I often have to drive long distances. I also travel between Edinburgh and Glasgow by train and rely on the capital's excellent bus service.
That made me an ideal guinea pig for the research project being conducted by the Centre for Ecology and Hydrology.
Cycling up Edinburgh's steep hills frequently leaves me breathing heavily, increasing my exposure to air pollution.
It is something I have long been concerned about. In fact, I have already changed the route I use to cycle to work. These days, I use a longer route along quieter, less congested streets.
So I was more than a little curious, perhaps even anxious, to discover my test results.
The news that my exposure to pollution while sitting in a car in city centre traffic could also be a threat to my health had done little to reassure me.
The results of my tests gave a remarkably detailed insight into my level of exposure to particulate matter over a 48-hour period.
In fact, it was slightly alarming to discover just how easily Dr Stefan Reis could work out exactly where I had been and what I had been doing during that time.
After leaving the BBC Scotland newsroom at Holyrood, the levels immediately began to increase as I made my way on foot up the Royal Mile towards Waverley Station.
My exposure increased again as I made my way through the station. Diesel trains would have been to blame here.
But my greatest exposure came as I walked along Princes Street during the evening rush hour. The street was lined with buses, waiting to reach their stops.
This was reflected by a large red spike on Dr Reis's laptop screen when he analysed my results.
I caught a bus for the remainder of my journey home that evening. My exposure increased as the driver pulled away from each stop.
The next day, I cycled to Waverley station to catch the train to Glasgow. In traffic, my levels started to climb.
That was in stark contrast to my return journey, when I used an off-road bike path between Haymarket station and Craigleith. No traffic meant much lower exposure.
On the train itself, my levels increased each time we pulled out of a station. In fact, Dr Reis was able to tell me how many stops the train had made just by looking at the spikes on my graph.
In the centre of Glasgow, it was a familiar story. Congested streets meant high levels of exposure as I cycled towards the so-called "bridge to nowhere" which carries a bike route high above the M8 motorway near the Kingston Bridge.
Winds coming in off the Atlantic and overnight rain meant the levels were lower than could otherwise have been expected. Easterly winds, carrying pollution from the continent, and dry conditions would have resulted in higher readings.
But it is worth remembering scientists say there is no known safe level of exposure to particulate matter.