Natalie Usher confirmed as Creative Scotland film and media director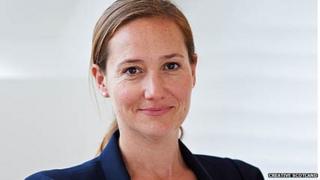 Creative Scotland has appointed Natalie Usher as its new director of film and media.
She is currently a partner at the media law firm Lee and Thompson and has previously worked in the Scottish TV and film industry.
Creative Scotland re-advertised the post after the first batch of candidates were deemed unsuitable.
One of her first tasks will be to help deliver Scotland's first national film complex.
Ms Usher's current role with Lee and Thomson deals with financing, production and distribution of film and TV as well as representing producers, financiers and talent.
She has also worked for UK Film Council, where she was legal adviser to the New Cinema Fund, a fund dedicated to discovering new cinema talent.
'Practical knowledge'
Ms Usher said of her new role: "Scotland has a huge wealth of creative talent, both in terms of established talent that needs to feel supported and new talent that should be nurtured.
"I relish the opportunity to be part of a team whose ambition is to create an environment that can bring out the best that Scotland's film and media industries have to offer by promoting greater inward investment, collaborating with existing partnerships and forging new ones."
She added: "I am looking forward to working to realise a confident Scottish film industry with the potential to compete on the international stage."
Janet Archer, chief executive of Creative Scotland, praised Ms Walker's background in film and television financing and distribution.
She said: "Natalie brings with her a huge amount of understanding and practical knowledge about film and TV production, financing and distribution.
"Importantly, she also brings extensive experience of making positive things happen in the film and media sector and is well networked across these industries in Scotland and internationally. "
Ms Usher is due to start her new role in early May.