Historic Scotland to invest £2m in old buildings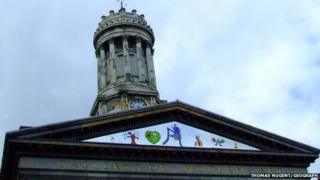 Historic Scotland has pledged almost £2m towards repairing crumbling landmarks.
A derelict Peterhead warehouse, a run-down Aberdeen theatre and a prominent Glasgow clock tower are among six renovation projects to get a cash injection from the government agency.
Culture Minister Fiona Hyslop announced £1.9m of support for the projects.
It is part of Historic Scotland's Building Repair Grant scheme. Some of the work could be complete by summer.
Three major projects at opposite ends of the country landed £500,000 each from the scheme.
The Town House in Inverness was granted the six-figure sum to carry out vital repairs to ensure it can continue to function as a vital community facility.
It was announced earlier this month that the A-listed building would cost £7.25m to maintain over the next six years.
The art deco Castlebrae Business Centre in Edinburgh was awarded a similar grant.
The former high school dates back to the 1930s and needs a major refurbishment to limit the ongoing decay of the building's exterior fabric.
The building's owners also plan to carry out significant interior work to make the building more suitable for businesses and local start-ups.
The Russell Institute in Paisley was also chosen for a £500,000 grant.
The institute was built in 1925 by Agnes Russell as a memorial to her two brothers and operated as a child welfare clinic.
The funds will be used to repair and redevelop the building and make it more suitable as a modern workplace for the future.
Another £250,000 was granted to the former Caley Fisheries warehouse in Peterhead, a B-listed building set to be converted into social housing and commercial space.
The major interior renovation work under way at the 19th century Tivoli Theatre in Aberdeen was boosted by £47,723 from the fund.
The A-listed theatre needs work on its ornate plasterwork and frescos, and will become a multi-use venue when completed.
And the Glasgow Museum of Modern Art received £98,672 to fund essential maintenance to its historic clock tower.
The conservation work on the A-listed structure should be complete in time for the Commonwealth Games coming to the city this summer.
Considerable improvements
Ms Hyslop said the funding would help deliver "considerable improvements to several of Scotland's most important historic buildings".
She said: "I am particularly pleased that this investment will see buildings that currently lie derelict or unused given a new lease of life and play an active role again in the communities in which they are located.
"Scotland's historic environment is so valuable to all parts of the country with its social, cultural and economic benefits impacting on every community.
"This investment demonstrates our continued commitment to supporting our historic buildings so they can be enjoyed now and in the future."