Forth Energy pulls out of Scottish biomass projects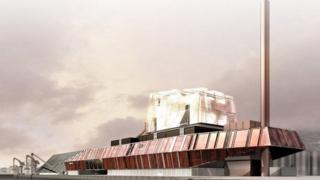 An energy company has pulled out of plans for three major biomass projects in Scotland.
Forth Energy said it was not continuing with renewable energy projects in Grangemouth and Rosyth and was seeking new backers for the schemes.
The plans for a plant in Dundee have been withdrawn altogether.
The news came after key backer Scottish and Southern Energy (SSE) announced it was pulling back from renewable energy projects.
Forth Energy, a joint venture between Perth-based energy giant SSE and Forth Ports, had won consent from the Scottish government for the wood-burning biomass plants in Grangemouth and Rosyth.
The £325m venture at Rosyth, predicted to create hundreds of jobs in Fife, was approved by Energy Minister Fergus Ewing in January.
However, the Dundee proposal, which carried a similar price tag, had been held up by a government inquiry after plans were rejected by the local city council.
A spokeswoman for Forth Energy confirmed the firm was "not continuing with plans" in Grangemouth and Rosyth.
She said: "Both projects have gained consent from the Scottish government and Forth Energy is investigating options to attract other developers to take the projects forward.
"Forth Energy has withdrawn its application for the proposed plant at the Port of Dundee following an objection from Dundee City Council."
The news was welcomed by campaigners in Dundee, who had put pressure on the local authority to reject the project amid fears about its green credentials.
There had also been controversy over the other plants, with seven protestors from Action Against Agrofuels arrested at the Grangemouth development site in 2011.
Plans for a fourth plant at Leith were scrapped in 2012.
'Dark shadow'
Campaigners claimed the biomass plants, which burn compressed wood chips for fuel, cause "more climate change, deforestation and pollution".
In response, Forth Energy had said the plants would use sustainably-sourced fuel and produce low-carbon electricity and heat.
Opponents of the schemes said they would continue to fight any firms who took the stalled projects on.
Walter Inglis, former chairman of Grangemouth Community Council, said: "Having opposed Forth Energy's plans for so long it's great to see them walking away.
"However, the consent remains in place so we'll be watching closely to make sure no other developers try to take it on."
Andrew Llanwarne, co-ordinator of Friends of the Earth Tayside said the announcement "removed a dark shadow" over Dundee.
SSE is scaling back its renewable energy commitments as part of a "streamlining" process to pay for an electricity price freeze.
Hundreds of jobs are being cut and four offshore wind developments have been shelved, saving the company up to £100m in operational costs.