New law brings tougher penalties for fly-tippers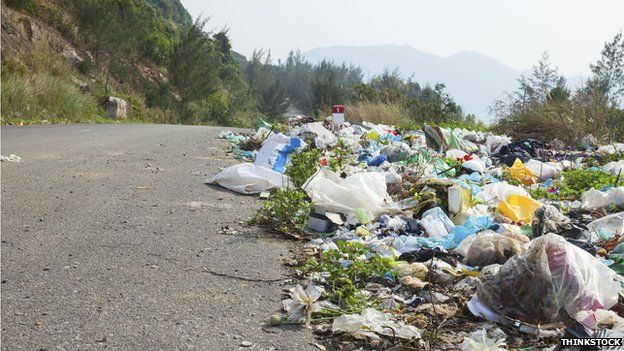 Tougher legislation has been brought into force to tackle fly-tipping and littering in Scotland.
The new legislation increases fixed penalty fines for both fly-tipping and littering.
Recent figures show that Scotland spends almost £78m a year dealing with the problem.
Approximately 250 million individual items of litter are cleared up every year with at least 26,000 tonnes of waste also fly-tipped.
The penalties for both offences were £50, but from today those caught littering could have to pay £80, while the fixed penalty notice for fly-tipping has been upped to £200.
Failure to pay can result in prosecution, with people facing fines of up to £2,500 for littering and £40,000 for fly-tipping.
Environment Secretary Richard Lochhead insisted there is "no excuse" for people to leave their rubbish lying around.
Mr Lochhead said: "Scotland's natural environment is one of our greatest assets and we must do everything we can to keep it clean and litter-free.
"It is easy to do the right thing and put your litter in the bin - there really is no excuse for littering."
He added: "Tackling litter and fly-tipping costs us a staggering £78m every year. It's impacting our economy, looks terrible and in some cases is affecting public health - none of us wants to see a litter-strewn environment; be it rural or urban."
As part of the £78m spent dealing with the problem in Scotland, local councils spend £36 million a year on removing litter, while a further £9m is spent clearing up fly-tipping.
A public consultation on the problem found "strong support" for upping the penalty for dropping litter, according to local government body Cosla.
Stephen Hagan, spokesman for Cosla, said: "Litter and its effects have significant costs to both communities and councils.
"Local authorities are committed to working with their communities and partners to reduce the negative impacts of litter and fly-tipping, and fixed penalty notices are one of a number of ways in which behaviour change can be encouraged."
The new legislation comes ahead of the Scottish government publishing its national litter strategy - the first since devolution - later this year.
Related Internet Links
The BBC is not responsible for the content of external sites.